BHARAT SOKA GAKKAI ORGANIZES ITS SECOND TRAINING SESSION WITH 'PEDAL ON' TO PROVIDE HOLISTIC DEVELOPMENT TO WOMEN FROM UNDERSERVED SECTION OF SOCIETY
On 27 May 2023, Bharat Soka Gakkai (BSG) organized its second training session with Pedal On (an NGO working for empowerment and holistic development of women from the underprivileged section of society). BSG Volunteers imparted lessons on 'Goal Setting' and 'Time Management' with the help of a 'ring-toss' game, a group activity and a participatory discussion.
The participants also learnt how to live SMART by setting goals which are Specific, Measurable, Attainable, Realistic, and Time bound.
The participants were also explained the management concept of SWOT analysis to help them recognize their Strengths, Weaknesses, Opportunities, and Threats.
This activity helped contribute to: SDG Goals 1, 3, 4, 5, 8, and 10.
Bharat Soka Gakkai Joins Hands With Manav Rachna University To Launch a Sustainability Competition Titled 'Schoolathon On Sustainability'
Bharat Soka Gakkai (BSG) has joined hands with Manav Rachna University (MRU) to launch 'Schoolathon on Sustainability' (SOS) – a sustainability-focused competition for all school students studying between grades 6-12 across India.
This competition aims to provide a platform to students to think creatively about sustainability-focused solutions to meet the UN 2030 SDG Agenda. It serves as a unique platform for students to further enhance their understanding about sustainable development and showcase their innovative ideas.
The last date for registering for the competition is 10th July 2023. The final round of the competition will take place on 7th October 2023 at the MRU campus in Faridabad.
Bsg Participates In Municipal Corportation Of Delhi'S #100Daystobeatplastic Campaign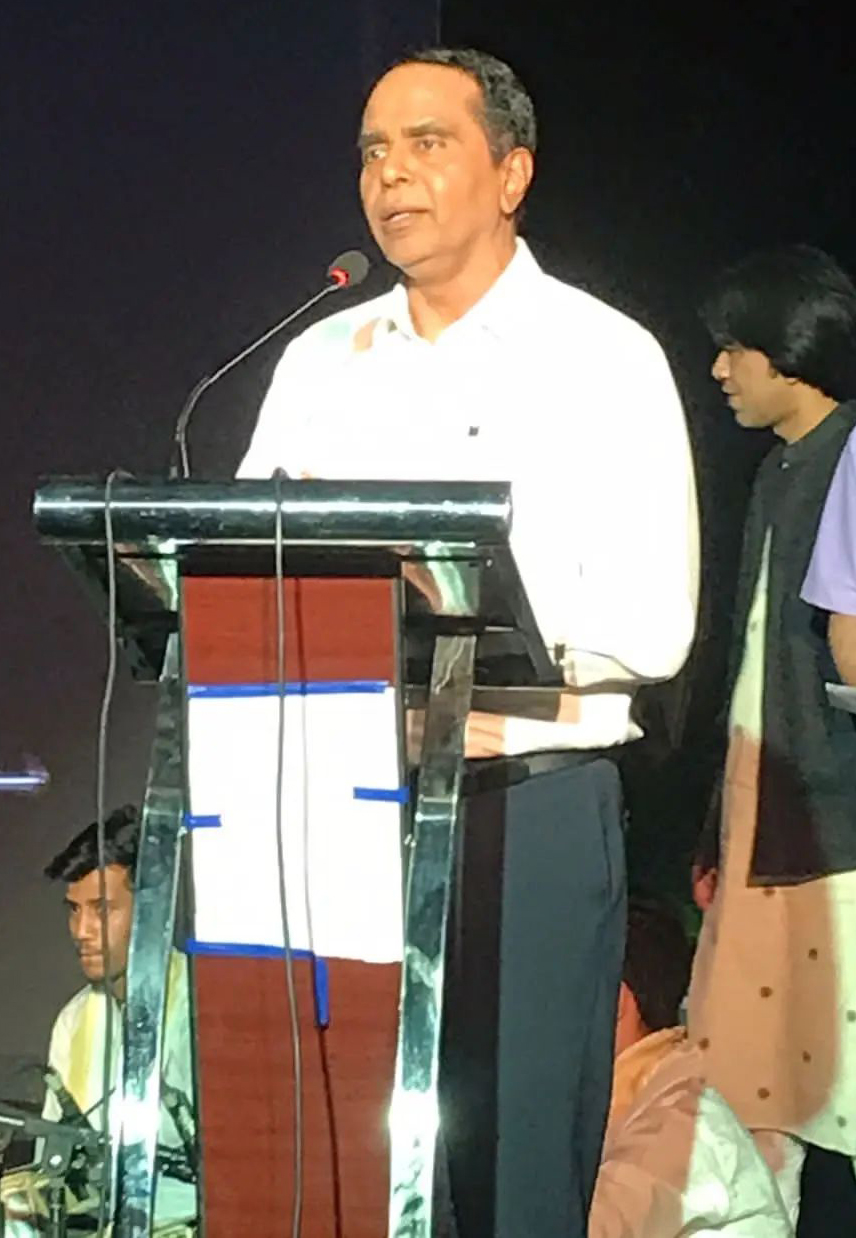 On the occasion of the World Earth Day on Saturday, 22nd April 2023, BSG participated in an event organised by the Municipal Corporation of Delhi (MCD) for their #100DaystoBeatPlastic Campaign, held at the Bharat Darshan Park, Punjabi Bagh, Delhi. BSG Chairperson, Mr. Vishesh Gupta talked about BSG's sustainability initiatives under the banner of 'BSG for SDG', its focus on individual actions and the importance of 'sustainable human behaviour' in beating plastic pollution. He also shared about BSG's #SayNOtoPlastic campaign and introduced BSG's 'Say NO to Plastic' song at the event.
Bharat Soka Gakkai Joins Hands With 'Pedal On' To Empower Women From Economically Weaker Section Of Society
On 22 April 2023, volunteers of Bharat Soka Gakkai conducted an interactive session for members of the 'Pedal On' community, which is a Delhi based NGO working with people from the marginalized communities and focusing on holistic wellbeing of all sections of society.
The session was called 'broken squares' where the participants had to make a square out of the broken pieces given to them. The exercise helped the participants reflect on their own perceptions and attitude towards life. At the end of the session, all participants went back feeling empowered with various learnings and takeaways. This session helped contribute to SDG5: Gender Equality.
A special thanks to Sanyukta Gupta from @catalyst_2030 India chapter for initiating this partnership between @bsgindiaofficial and @pedal_on_
Bharat Soka Gakkai Joins Hands With Gyandeep Growth Foundation, Delhi To Empower Underprivileged Children
Bharat Soka Gakkai, under its 'BSG for SDG' initiative, organized an outreach programme with Gyandeep Growth Foundation gyandeepgrowth – a not-for-profit organisation that strives to inculcate an importance of education in the minds of economically weaker sections of society.
On 6th April 2023, BSG conducted the first PDP (Personality Development Programme) session titled "HERO IN ME" with a group of 50 students from the Foundation. The session focused on self-awareness and helped the students identify their strengths and using them in progressive ways. It also helped students understand ways to overcome their weaknesses and brought out the conviction that there is a hero in everyone, and with consistent efforts, we can bring out these heroic qualities from within our life.
Not only did the session help contribute to SDG 4: Quality Education and SDG 1: No Poverty, but it also helped contribute to SDG 5: Gender Equality. Initially, the girl students felt that HERO was a term only associated with boys. However, after the session, they understood how everyone has heroic qualities regardless of gender.
Bharat Soka Gakkai Launches 'Say No To Plastic' Campaign
On 19th March 2023, Bharat Soka Gakkai (BSG) organized a 'BSG for SDG' meeting in New Delhi, in which, BSG launched the 'Say NO to Plastic' campaign.
This is a two-point campaign which has the following action points:
(1) Say NO to Plastic Bags
(2) Say NO to Plastic Bottles
In the meeting, BSG Chairperson Mr. Vishesh Gupta shared the spirit and significance of the campaign. A special song titled 'Say NO to Plastic' was also introduced, which can be accessed here:
The campaign was endorsed by Ms. Dia Mirza (Actor, Producer, UNEP Goodwill Ambassador & UN Advocate for SDGs), who sent a special video message for the launch of the campaign, which can be viewed here:
Other eminent speakers who joined the meeting in person and endorsed the campaign included Mr. Amit Sachdeva (Philanthropist, Social Entrepreneur, Founder – Mahatma Awards, Founder & Chairperson: Liveweek Group), Dr. Ruby Makhija (Ambassador for the 'No Plastic' drive for MCD), and Mr. Souvik Bhattacharjya (Associate Director: TERI).
In their addresses, they shared their thoughts on the ill-effects of plastic from various perspectives and appreciated BSG for formally launching this campaign.
Bharat Soka Gakkai Participates In Roundtable On 'Circular Economy And Green Supply Chains' Organized By The Energy And Resources Institute (Teri)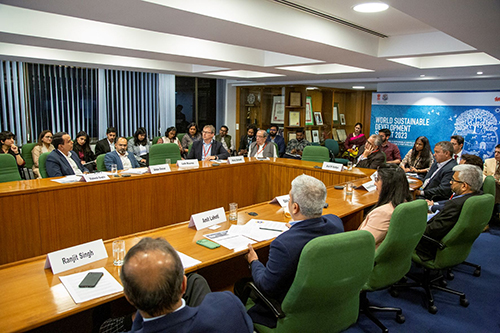 BSG participated in an evening roundtable on 'Circular Economy and Green Supply Chains', on 23rd February 2023. This roundtable was part of the World Sustainable Development Summit 2023, organized by The Energy & Resources Institute (TERI).
The roundtable sought to bring together expert stakeholders on a common platform to discuss on concepts and ideas towards creating a circular economy such as responsible consumer behaviours, recycling infrastructure and investments, greening supply chains etc. The roundtable was inspired by the "India Australia Industrial and Research Collaboration for Reducing Plastic Waste", jointly implemented by the Commonwealth Scientific and Industrial Research Organisation (CSIRO). Recommendations from the roundtable will be presented in the form of a proposal to the Ministry of Environment & Forests (MoEF).
Mr. Vishesh Gupta, BSG Chairperson, spoke about BSG's work in Peace, Culture, Education, and Sustainability. He stressed the importance of "Sustainable Human Behaviour" and empowering individuals for sustainable living. He also shared about the role played by the "BSG for SDG" Mobile App towards sustainability. He recommended focusing on grassroots sustainability, incorporating sustainability into education, the "Power of One" and how BSG's Seeds of Hope & Action exhibition (SOHA) and SDG Clubs promote Sustainable Human Behaviour and sustainability.
Other participants in the roundtable were Dr. Atul Narayan Vaidya (Director, CSIR-NEERI), Dr. Heinz Schandl (Senior Principal Scientist, CSIRO), Mr. Perses Bilimoria (Founder and CEO, Earth Soul India Pvt Ltd and Cobra Beer), Mr. Amit Lahoti (Senior Commercial Director and GM-Asia, Ball Beverage Packaging), Ranjit Singh(Global COO, Managing Director, Polyplex Corp. Ltd.), Capt. Satyendra Vaidya(Advisor, Shakti Plastics Industry), Dr.Arvind Kumar(Scientist F, Department of Science & Technology), Ms. Ekta Narain(Co-Founder, Recykal) , Mr. Haresh Kumar Panjvani(Senior Director, Capgemini Services India (P) Ltd) & environmentalist Dr. Ashok Khosla.
BSG participates in workshop on 'Celebrating Innovation in Health and Sustainable Development' – 2017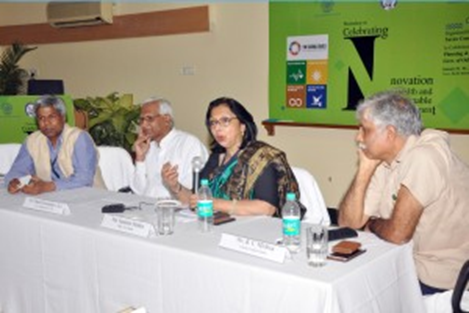 BSG participated in Workshop on 'Celebrating Innovation in Health and Sustainable Development' organized by Xavier Council of Innovation (XCI) and Xavier University Bhubaneswar (XUB) in Collaboration with Planning & Convergence Department Govt. of Odisha on January 04 – 05, 2017 at Xavier Institute of Management Bhubaneswar (XIMB), Bhubaneshwar.
The workshop was organized to create a platform for celebrating innovation in the field of health and sustainable development and promote a culture of innovation at team, organizational and community level.
Professionals from Business corporations, Government Agencies, UN agencies, International and National NGOs, Academic and Research Institutions who are actively engaged in nurturing and promoting innovations in sustainable development participated in the workshop.
BSG participates in TOI Green Drive – 2016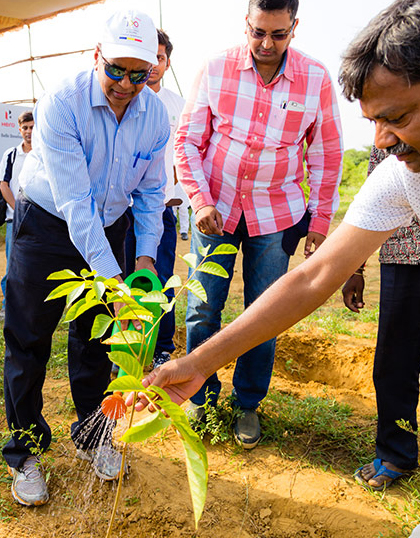 Bharat Soka Gakkai participated in a Green Drive initiative organized by the Times of India on Saturday, 5th November 2016.
Around 30,000 trees were planted at Tughlakabad Biodiversity Park with the aim of making Delhi greener and more environment friendly. Members of BSG including children enthusiastically participated in planting the saplings.
BSG Participates in Sach Bharat Conference – 2015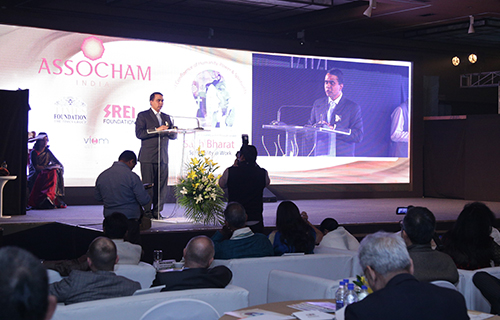 BSG Chairperson Vishesh Gupta addressing the audience at Sach Bharat Conference
Renewing its commitment to establish a value-based society, BSG chose to join the SACH Bharat Conference held in the Capital over December 22-23, 2015.
BSG Chairperson Vishesh Gupta was invited to speak on 'Minimum Governance, Maximum Self-governance' at this conference that focussed on spirituality and work. Organized by ASSOCHAM and supported by the SREI Foundation and the Times Foundation, the conference had Indian and international speakers from all walks of life.
International visitors from the USA, Indonesia, Malaysia, Qatar, and Dubai participated in the Summit. Representatives from leading corporates, Government and Non-Government Organizations like UNGCI, GRI, & UNICEF also participated.
Other Related Pages