BSG Arts Division participates in event organized by Public Concern for Governance Trust (PCGT) and Sri Shanmukhananda Fine Arts
February 6, 2018
Shanmukhananda Hall, Mumbai
Public Concern for Governance Trust (PCGT) was founded basically to fight corruption and ensure good governance with highest standards in probity and integrity in public life.
One of the projects of PCGT is Youth for Governance (YFG) was started to sensitize the youth to issues of governance while they ready themselves to take up leadership roles and trying to get the youth to be more involved with Peace building activities.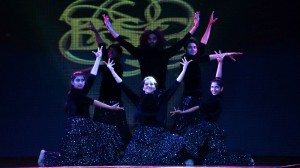 PCGT conducted an event 'Youth For Governance (YFG) on Tuesday, February 6, 2018 at Shanmukhananda Hall, Mumbai. The theme of the event was 'Unity in Diversity. The event was co-organized by Sri Shanmukhananda Fine Arts and Sangeetha Sabha and BSG.
BSG Arts Division participates in event organized by Public Concern for Governance Trust (PCGT) and Sri Shanmukhananda Fine Arts
Chief Guest for the occasion was Hon. Shri Rajmohan Gandhi, grandson of Mahatma Gandhi
BSG Arts Division was invited to perform at this prestigious event. Members of Arts Division gave rousing rendition of Raag Malhaar and followed with a powerful dance performance combined with recitation of excerpts from President Ikeda's poems. The performance concluded with brief introduction of SGI and BSG and its activities to promote Art and culture.
The students and guests present at the occasion deeply appreciated BSG's performance.
BSG participates in workshop on 'Celebrating Innovation in Health and Sustainable Development'
January 04, 2017
XIMB, Bhubaneshwar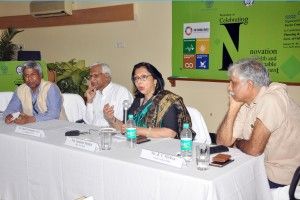 Ms. Sumita Mehta, Head of BSG Public Relations, BSG, sharing her views at the workshop
BSG participated in Workshop on 'Celebrating Innovation in Health and Sustainable Development' organized by Xavier Council of Innovation (XCI) and Xavier University Bhubaneswar (XUB) in Collaboration with Planning & Convergence Department Govt. of Odisha on January 04 – 05, 2017 at Xavier Institute of Management Bhubaneswar (XIMB), Bhubaneshwar.
The workshop was organized to create a platform for celebrating innovation in the field of health and sustainable development and promote a culture of innovation at team, organizational and community level.
Professionals from Business corporations, Government Agencies, UN agencies, International and National NGOS, Academic and Research Institutions who are actively engaged in nurturing and promoting innovations in sustainable development participated in the workshop.
BSG participates in TOI Green Drive
November 05, 2016
Tughlakabad Biodiversity Park, New Delhi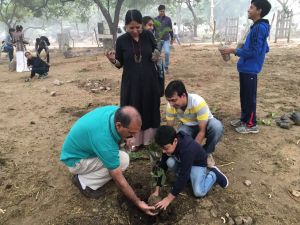 Bharat Soka Gakkai participated in a Green Drive initiative organised by the Times of India on Saturday, 5th November 2016.
Around 30,000 trees were planted at Tughlakabad Biodiversity Park with the aim of making Delhi greener and more environment-friendly. Members of BSG including Future Division members enthusiastically participated in planting of saplings.
BSG Participates in Sach Bharat Conference
December 23, 2015
New Delhi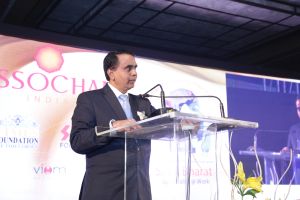 Renewing its commitment to establish a value-based society, BSG chose to join the SACH Bharat Conference held in the Capital over December 22-23, 2015.
BSG Chairperson Vishesh Gupta was invited to speak on 'Minimum Governance, Maximum Self-governance' at this conference that focussed on spirituality and work. Organised by ASSOCHAM and supported by the SREI Foundation and the Times Foundation, the conference had Indian and international speakers from all walks of life.
International visitors from USA, Indonesia, Malaysia, Qatar and Dubai participated in the Summit. Representatives from leading corporates, Government and Non-Government Organisations like UNGCI, GRI, & UNICEF also participated.