Ikeda Auditorium at SBTG
Introduction
The Soka Bodhi Tree Garden (SBTG) was envisaged by SGI President Daisaku Ikeda as a centre for exchange of friendship and a training ground through peace, culture & education activities. This garden, spread over nearly 162 acres, was inaugurated on September 12,1993. It lies 60 km southwest of New Delhi, off the Jaipur highway, in the state of Haryana.
Since its opening, almost 200,000 people have visited the garden, which is reminiscent of the verdant Jetavana Grove described in the Lotus Sutra.
Bodhi Trees
Till date 4,230 Bodhi trees have been planted in the SBTG.
Bodhi trees that have been planted here, represent all the states of India; various SGI countries of the world. There are few Bodhi trees that mark important events; and others that have been planted in memory of dignitaries such as Mahatma Gandhi, Rabindranath Tagore, Dr. Krishna Srinivas, IK Gujral etc.
Training Ground For Fostering Capable People
In his message on the inauguration of the Soka Bodhi Tree Garden, President Ikeda said, "…I am also confident that this Bodhi Tree Garden will become a training ground for capable people. It will be a place where leaders from various fields around the world will come to meet in order to cultivate and develop themselves, inspiring and stimulating each other's growth…"
Since 1995, BSG has been holding meetings, cultural festivals and training programs at SBTG. From time to time, BSG members also visit the garden along with family and friends.
World Peace Monument
Towards achieving lasting world peace, SGI President Ikeda proposed the construction of World Peace Monument in the heart of the Ikeda Peace Garden located within the Soka Bodhi Tree Garden. This monument was unveiled on 16th January 2011.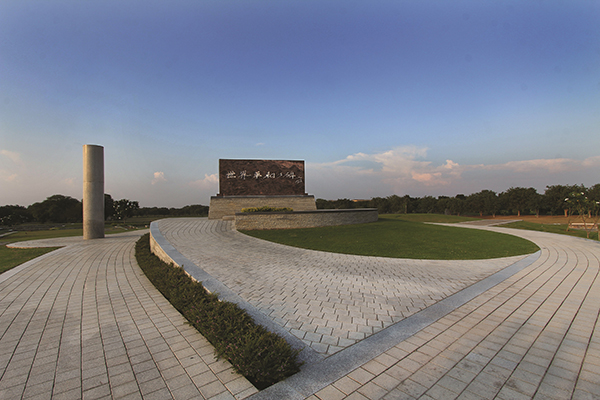 The World Peace Monument is erected on an elevated circular platform, about 2.5 metres above the ground and weighs around 12 tons. Built of Himalayan blue granite, it is 5 feet high, 11 feet wide and 1 feet thick and has Japanese calligraphy of 'Monument of World Peace' engraved in SGI President Daisaku Ikeda's handwriting in Japanese, along with his signature on one side, and his poem for world peace monument on the other side. A beautiful pillar, 4.5 meters tall made of imperial white granite, is erected next to the monument.
Ikeda Auditorium
The Ikeda Auditorium, named after SGI President Daisaku Ikeda, was completed, and inaugurated on 22nd September 2019. At a majestic height of 26 metres, it has a unique terracotta tiled roof, which was chosen to give the building a special touch of India.
This grand auditorium has a seating capacity of nearly 3000. The width of the stage measures about 30 meters, which seemingly makes this stage one of the largest in North India. The green rooms in this auditorium can accommodate nearly 500 performers.
Other Highlights In SBTG
SBTG also has an open-air theatre with a seating capacity of about 300 people. It houses another auditorium with a capacity of more than 1000 people and Ikeda Friendship Centre which displays writings and pictures taken by SGI President Daisaku Ikeda and many important films showcasing the growth of Soka movement around the globe.
The SBTG is also a haven for many birds and animals. Peacocks, pigeons, geese, rabbits, parrots, and kingfisher frequent the garden. With its open fields, dense foliage, and water bodies, the SBTG sees migratory birds round the year.
Gallery of SBTG
Other Related Pages