Peace Symposium Webinar on SGI President Daisaku Ikeda's 2020 Peace Proposal
"Toward Our Shared Future: Constructing an Era of Human Solidarity"
Monday, 24th August 2020

6.00 PM IST
BHARAT SOKA GAKKAI
Bharat Soka Gakkai (BSG) is an organisation engaged in peace, culture and education activities based on the humanistic philosophy. It is part of the larger Soka Gakkai International (SGI) network, a global organisation that seeks to promote the values of peace and respect for all people and comprises of more than 12 million people in 192 countries and territories around the world. BSG members are spread over 600 cities and towns across India.
SGI PRESIDENT IKEDA'S 2021 PEACE PROPOSAL


Value Creation in a Time of Crisis

The world today is faced with a complex set of urgent crises that can only be described as unprecedented in the history of humankind. In addition to the increasing incidence every passing year of extreme weather events that reflact the worsening problem of climate change, the onslaught of the novel coronavirus (COVID-19) panademic continues to threaten social and economic stability throghout the world.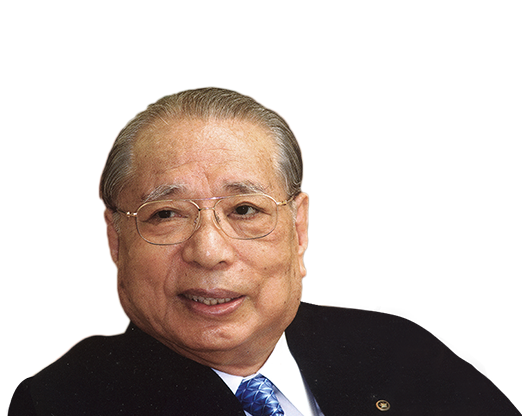 UPCOMING EVENT
Webinar titled "The Power of One- the Solidarity of Youth"
November 18th 2021 6:00 PM
This webinar is a part of BSG's symposium series 'Dialogue in Action: Empowering Humanity'.
Please write to bsg@bharatsokagakkai.org for more details.
WORDS OF WISDOM
"If you lose today, win tomorrow. In this never-ending spirit of challenge is found the heart of a victor."
SOKA BODHI TREE GARDEN
Soka Bodhi Tree Garden was envisaged by SGI President Daisaku Ikeda as a centre for exchange of friendship and a training ground through peace, culture & education activities. In the inaugural message, President Ikeda said, "I am positive that from among those who will come to visit this garden in the future… there will emerge great leaders. It will be a place where leaders from various fields around the world will come to meet in order to cultivate and develop themselves, inspiring and stimulating each other's growth."
Dr. Randeep Guleria
Director, AIIMS, New Delhi
Padma Shri

Ms. Shaheen Mistri
Founder and CEO,
Teach for India

Ms. Hasina Kharbhih
Founder and Chairperson
Impulse NGO Network

Mr. Sujay Santra
Founder & CEO
Ikure


Mr. Vishesh Gupta
Chairperson
Bharat Soka Gakkai

Ms. Rashi Ahuja
Director, Head of External Relations
Bharat Soka Gakkai

Rupesh Chaurasia
from Teach for India


Ankit Tyagi
Emcee

Ms. Devika Punjabi
Moderator
Peace Symposium Webinar based on SGI President Daisaku Ikeda's 2021 Peace Proposal titled
"Value Creation in a Time of Crisis" held on 8th September 2021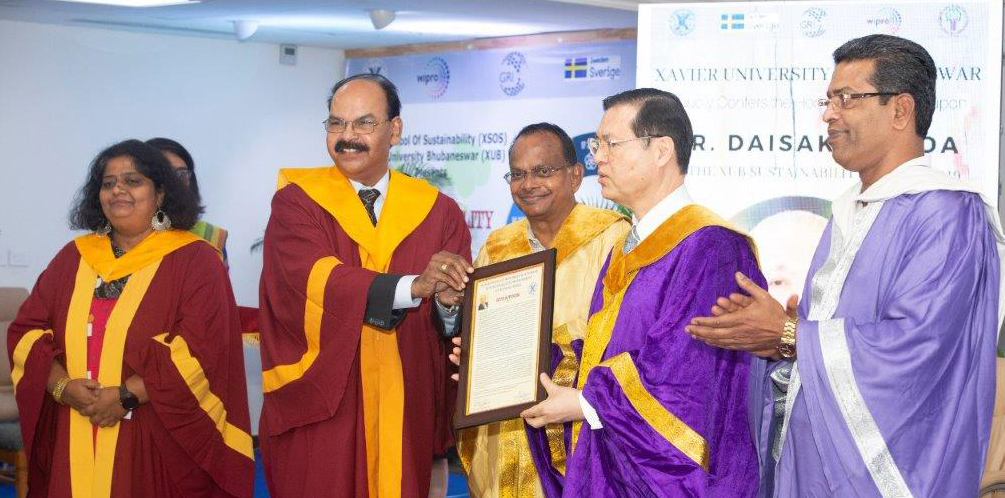 Xavier University Bhubaneswar
Confers Honorary Doctorate in Sustainability Management upon President Ikeda
Venue: Xavier School of Sustainability, Bhubaneswar
Date: 22nd November 2019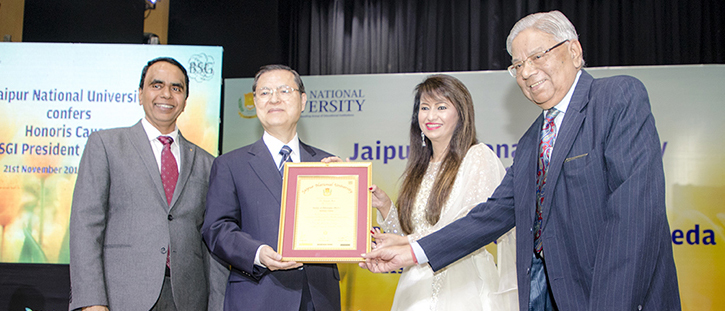 Jaipur National University
Confers Honorary Doctorate in Philosophy
upon President Ikeda
Venue: Dr Ambedkar International Centre, New Delhi
Date: 21st November 2019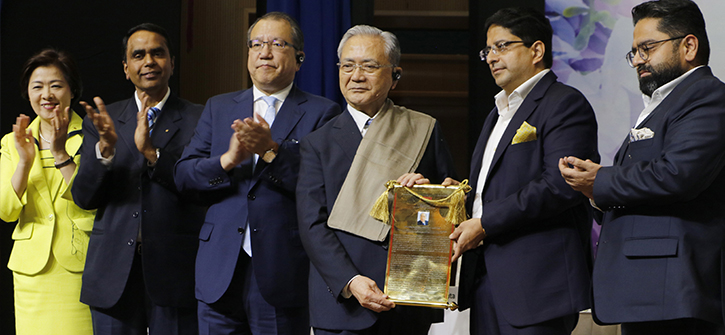 Manav Rachna University
Confers Honoris Causa on
SGI President Daisaku Ikeda
Venue: Dr Ambedkar International Centre, New Delhi
Date: 23rd September 2019