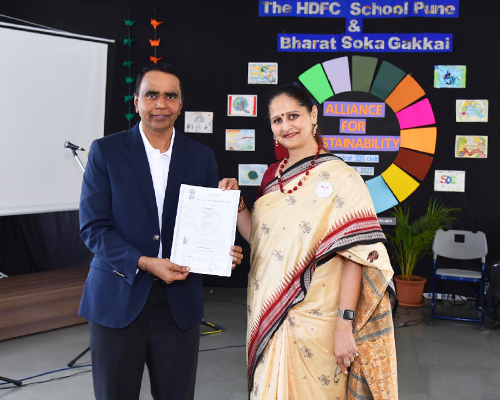 25th August, 2022
The HDFC School, Pune
As part of its 'BSG for SDG' initiative, BSG has endeavoured to set up SDG Clubs in different institutions, as a platform for students in the institutions to learn about the Sustainable Development Goals (SDGs) together, formulate solutions to contribute to the SDGs on a daily basis through 'Sustainable Human Behaviour', thereby creating a culture of sustainability.
The HDFC School, Pune is one such institution which has collaborated with BSG for the creation of an SDG Club in the school. BSG and the School have entered into an agreement for conducting SDG related activities under the SDG Club.
The launch event held in the school was marked by beautiful presentations by the students of the HDFC School. These presentations covered various activities undertaken by the students to achieve the 17 SDGs.
BSG Chairperson Mr. Vishesh Gupta addressed the gathering and introduced BSG's activities to promote SDGs. He also appreciated the efforts undertaken by the school towards the SDGs. He added that the formation of the SDG Clubs is an effort to stimulate reflection, discussion, and ideas from young minds on how to achieve the SDGs by 2030 and create a world where 'no one is left behind.
The Principal of the School, Dr. Amruta Prabhu, expressed deep gratitude to collaborate with BSG for creating the SDG Club in the school. She expressed that the formal association for the SDG club activities with BSG empowered and inspired the school to add their precious human resources to the global cause.
Students and teachers of the school, and BSG members attended the event. They shared their feedback that the creation of the SDG Club in the school is a welcome initiative. They also expressed their determination to contribute to the SDGs in a meaningful way.
The launch was widely covered by media. A few clips including from the local Pune media are attached.