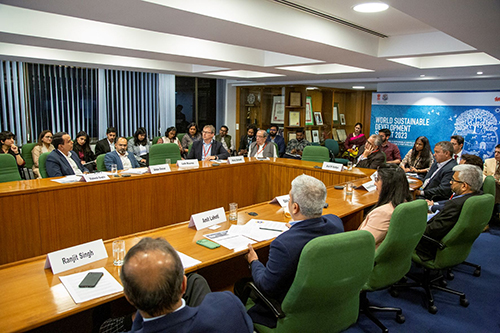 BSG participated in an evening roundtable on 'Circular Economy and Green Supply Chains', on 23rd February 2023. This roundtable was part of the World Sustainable Development Summit 2023, organized by The Energy & Resources Institute (TERI).
The roundtable sought to bring together expert stakeholders on a common platform to discuss on concepts and ideas towards creating a circular economy such as responsible consumer behaviours, recycling infrastructure and investments, greening supply chains etc. The roundtable was inspired by the "India Australia Industrial and Research Collaboration for Reducing Plastic Waste", jointly implemented by the Commonwealth Scientific and Industrial Research Organisation (CSIRO). Recommendations from the roundtable will be presented in the form of a proposal to the Ministry of Environment & Forests (MoEF).
Mr. Vishesh Gupta, BSG Chairperson, spoke about BSG's work in Peace, Culture, Education, and Sustainability. He stressed the importance of "Sustainable Human Behaviour" and empowering individuals for sustainable living. He also shared about the role played by the "BSG for SDG" Mobile App towards sustainability. He recommended focusing on grassroots sustainability, incorporating sustainability into education, the "Power of One" and how BSG's Seeds of Hope & Action exhibition (SOHA) and SDG Clubs promote Sustainable Human Behaviour and sustainability.
Other participants in the roundtable were Dr. Atul Narayan Vaidya (Director, CSIR-NEERI), Dr. Heinz Schandl (Senior Principal Scientist, CSIRO), Mr. Perses Bilimoria (Founder and CEO, Earth Soul India Pvt Ltd and Cobra Beer), Mr. Amit Lahoti (Senior Commercial Director and GM-Asia, Ball Beverage Packaging), Ranjit Singh(Global COO, Managing Director, Polyplex Corp. Ltd.), Capt. Satyendra Vaidya(Advisor, Shakti Plastics Industry), Dr.Arvind Kumar(Scientist F, Department of Science & Technology), Ms. Ekta Narain(Co-Founder, Recykal) , Mr. Haresh Kumar Panjvani(Senior Director, Capgemini Services India (P) Ltd) & environmentalist Dr. Ashok Khosla.