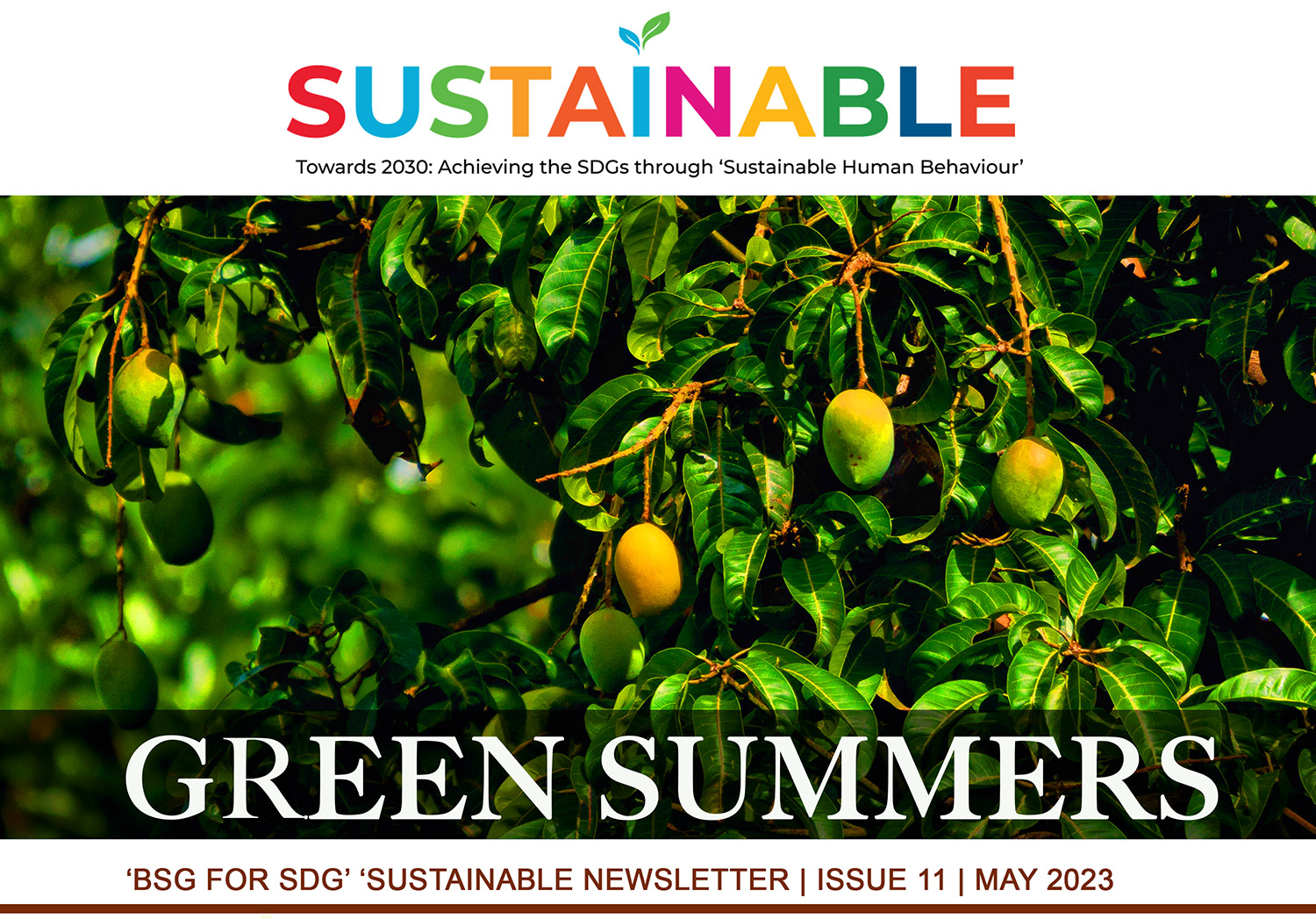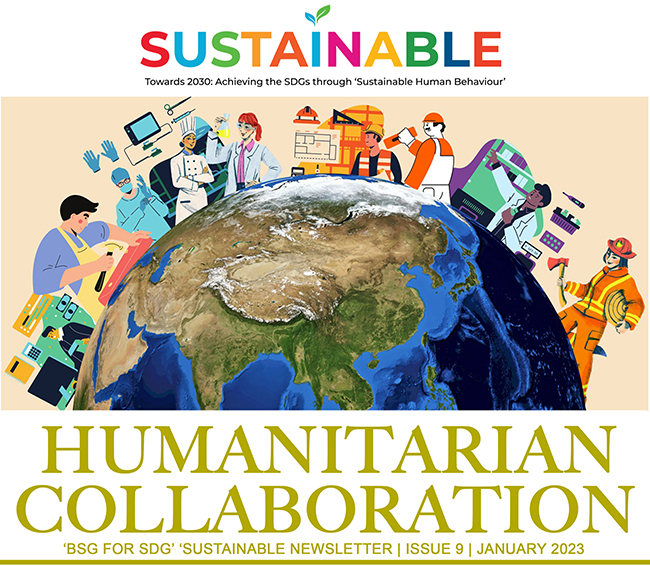 Greetings from BSG Chairperson Mr. Vishesh Gupta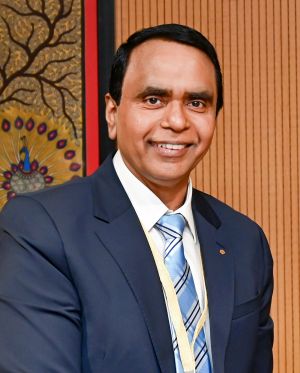 Dear readers,
I hope all of you and your family members are doing well amidst these rising temperatures of the summer season. This year, 2023, witnessed the hottest February in history with large parts of India reporting higher than average temperatures. Experts believe that India is now experiencing more intense, frequent heat waves that are longer in duration, resulting in a higher number of heat-related deaths.
Contributing to this mix is the fact that this year the El Nino is predicted to develop in India by mid 2023, leading to dry, inadequate monsoon, which might adversely affect the agricultural produce.
The Ministry of Health released India's National Action Plan on Heat-related illness in 2021 to guide cities in preparing and responding to heatwaves. However, we still have a long way to go in combating heat waves. While the government bodies do their bit to address this heated reality, it is imperative that each one of us adopts sustainable human behaviour to mitigate the effect of climate change and these rising temperatures in whichever way we can. Every person's action matters.
Against this backdrop, the 11th issue of the 'BSG for SDG' 'SUSTAINABLE' newsletter focuses on the theme: "Green Summer". In this issue, we will learn about the urban heat island effect and its cascading effect on other progress indicators such as poverty reduction, food production and availability. This issue also suggests practical ways on how each one of us can adopt sustainable human behaviour in our daily life to counter the effect of heat waves. Also, if you are travelling during the summer vacations, there are some simple tips to travel responsibly and engage in some fun DIY projects with kids at home, among other things.
We hope that this issue serves to not only deepen your understanding about heat waves but also equip you to handle it in sustainable ways, and enjoy the summers!
Warm Regards
Vishesh Gupta
Chairperson, Bharat Soka Gakkai
The challenge of longer and hotter summers
Expanding our SDG Vocabulary
Heat waves and climate change are human-made phenomena, and require solutions that originate in the transformation of human behaviour
British naturalist Charles Darwin, in his epic work 'The Origin of Species' (originally published in 1859), shared that organisms who best adjusted and adapted themselves to their environment are the most successful in surviving and reproducing. This led to the creation of the phrase 'survival of the fittest'. Over the years, however, the term 'survival of the fittest' has overtaken our economic models and daily life. This has led to a spirit of competition in every area of life, albeit in a negative way. Today, there is a general tendency amongst individuals to look out only for themselves and their families. However, in recent years, the COVID-19 pandemic, climate change, and the war have taught us that we need the support of countless others around us to lead a good life and that we are all dependent on not just each other, but the environment, the world at large.
Tsunesaburo Makiguchi, the founding President of the Soka Gakkai, in his groundbreaking book The Geography of Human Life, talked about the concept of "shared living", also known as 'dependent origination'. SGI President Daisaku Ikeda shares the following in reference to Mr Makiguchi's book:
"The foundation of Makiguchi's thinking was an awareness that this world is, more than anything, the site of shared living. In the introduction of The Geography of Human Life, Makiguchi describes the concrete awareness that is at the heart of this worldview. When his wife was unable to produce milk for their newborn, their doctor recommended a powdered milk made in Switzerland after a Japanese domestic product had proven inadequate. Makiguchi expresses his appreciation for the cowherds working in the foothills of the Jura Mountains. Noting also the cotton from which his child's swaddling clothes are made, he pictures people in India working in the searing heat to produce it. In this way, he describes how, from the moment of birth, a child is connected to the entire world."
Explaining this concept of 'dependent origination', President Ikeda writes: "As people, we share this one planet which we will eventually pass on to our children. A clear and vital awareness of the full dimensions of life's interconnectedness must be the basis for all our actions."
While most people might view climate change, heat waves, global warming and extreme temperatures as an environmental issue, it is undeniably, more than that. It is a result of human activity, and it represents a threat to all people living on Earth, both now and in future generations.
The rising sea levels due to the melting of the Antarctic and Greenland ice sheets, as well as heat waves, torrential rain and other extreme weather events have had devastating effects on economies and businesses. Moreover, the effects of climate change are driving more and more people into forced displacement. Heat waves disproportionately affect the elderly, small children, outdoor workers, the poor and marginalised people, further aggravated by the urban heat island effect.
However, President Ikeda cautions against the tendency to focus on the scale of economic loss or other quantifiable indicators when addressing climate change, as it often obscures the actual human suffering caused. Therefore, in his 2020 Peace Proposal, he insists on including the voices and perspectives of those who are either directly affected by the impact of global warming or indirectly through forms of structural discrimination.
Further, in the 2016 Peace Proposal, President Ikeda proposes an ecosystem based approach to Disaster Risk Reduction and climate change adaptation, through examples that include restorative planting to stabilise sand dunes, the use of wetlands to mitigate storm surges and the greenification of cities in stormwater management. This approach also serves to create opportunities for active and sustained engagement of the local community in solutions. He writes: "When those involved pass through this place of their labours in future years, they will look upon that landscape with an even more poignant sense of its value." It serves to strengthen people's connection with the local ecosystem to their daily life, and set down deep roots of a truly resilient community.
Ultimately, it boils down to recognizing the crucial role each one of us plays in shaping our natural world, our environment. Human beings are at the heart of everything, and therefore, a fundamental transformation in the way we live our life will leave a lasting positive impact on the world around us. This is the very purpose of sustainable human behaviour.
BSG's SDG Champions Opening Up the Way!
Walking the Talk to Save the Planet
Aditi Haldar | Women's Division | Delhi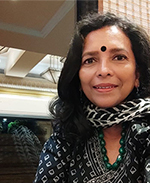 I am an environmental scientist by profession and a home engineer. My work takes me to different industries and cities across the globe where I talk about the importance of sustainability, and about protecting and respecting the dignity of our planet and all life – which also entails speaking to governments, investors, and the business sector. I have often wondered about the phrase "walk the talk" and I thought that someday, I will surely do and apply myself whatever I tell others to do and follow. This of course required that I should undergo a great inner transformation at the depth of my life and practise environmental and social responsibility in my daily life.
When BSG announced the 'BSG for SDG' initiative in 2021, I was thrilled, because the focus of this initiative was on each individual adopting 'sustainable human behaviour' as a way of life. I have been a voluntary member of BSG since 2010. Encountering a mentor like SGI President Daisaku Ikeda has provided me the necessary nudge to polish my life and to consciously think about how my actions are impacting others. I took the 'BSG for SDG' initiative as an opportunity to further work on myself and bring forth a greater determination to "walk the talk".
An occasion soon emerged in the form of my daughter's engagement. Our ancient traditions include many festive celebrations towards the wedding ceremony, but this often comes with a lot of waste which harms our planet.
I always had a desire to get my daughter married in a beautiful, memorable way that will neither be an extravagant affair, nor lead to any waste generation. I felt very fortunate and grateful that my daughter, her partner, and her future in-laws – all of us were keen to hold the celebrations with environmental and financial responsibility as the core. I was determined to make this function a value creating one towards achieving SDGs in our own life.
As we set out to book vendors towards the engagement ceremony, we faced many hurdles, as the majority of the vendors did not have a focus on being environmentally conscious. We started having doubts whether all this trouble was worth the effort. But I was determined to apply the principle of 'never giving up' that I have learnt in the Soka Gakkai and report victory.
Owing to persistent and determined efforts, we were able to have a beautiful roka and engagement ceremony, while ensuring minimal wastage of Earth's precious resources. Here are some aspects in which we could support our planet through the festivities:
Saving Electricity, SDG 7: We organised a day-time function in an open farmhouse gifted by our friends, which was filled with greenery and a picturesque environment. Shades of trees and natural light and the pleasant breeze of February added to the overall beautiful ambience. As a result, we were able to save a huge amount of electricity expense.
Zero Plastic Waste, SDG 12: Water was served to all guests in glass jars (always ensuring safety and hygiene). There were no plastic containers. All gifts were packed using natural materials. There weren't any plastic festoons either. The decoration was the open sky, many swaying trees and occasional chirping of birds. Table decoration was only seasonal flowers with arrangements in earthen pots of various designs. These pots were procured from local vendors, thereby supporting the livelihood of the local villagers. Table arrangements were done by the bride & groom themselves. After the function, the flowerpots were gifted to friends and family members. Giveaway gifts included only these plants and sweets in a metallic box (not plastic) with a tag titled, "See them Grow".
Zero Food Waste, SDG 2: No toxic chemicals were used for colouring of food and drinks. The cake and the beverages were spiced and coloured with only carefully chosen edible flowers. We ensured no food waste would happen during the event.
My daughter, her to-be in-laws, and all our guests were dancing and celebrating the joyous occasion through and through. I am even more determined now to foster many young SDG ambassadors in my environment through my own personal actions and inspire them to adopt 'sustainable human behaviour' in their everyday life.
Transforming Personal Loss into a Pledge to Fight Climate Change
Ashish Mansharamani | Men's Division | Delhi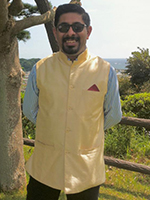 I became a voluntary member of the Bharat Soka Gakkai (BSG) in 1996, and through BSG, I encountered my lifelong mentor – SGI President Daisaku Ikeda. In 2006, reading President Ikeda's dialogue with Dr. Wangari Mathai left a profound impact on me. Based on the Soka philosophy of respect for life and its environment, I embarked on the journey seeking to reverse the damage caused to the climate and restoration of the environment.
Ever since making this determination in my life, I have got some wonderful opportunities to be associated with various projects connected with climate change, such as: Research on Polar Regions from Cambridge University, Fog Harvesting Systems, Oxford University's Climate Prediction experiment, and the Himalayan Mountain Maintenance Days.
In 2017, I joined the office of the then President of India and later, his foundation for projects for the environment where I worked in the areas of Climate Change, Sustainable Development, and Human Rights.
Here, I was able to publish fifty op-ed news articles, and ten research papers, hosted lectures, seminars with government authorities & dignitaries. The team and I also wrote papers for two books I later edited into volumes, with extensive research on climate change, environmental policy towards greening Delhi, and reform of the constitutional and criminal justice system titled 'Samanvaya'. These books are being used as case studies in the country's top public and environment policy universities.
On a personal level, my mother and I regularly celebrate my older brother's birth & death anniversaries by planting trees. We had started this drive to plant 37 trees on his 37th birthday. In 2022, planting trees on my late brother Vineet's 44th birth anniversary in Mumbai alongside an NGO, we were able to plant 11,400 trees and saplings worldwide because of 'a friend and family campaign'. We had registered this campaign as a UN ecosystem activity of UNEP & Jane Goodall Institute for restoration of the planet. We are now setting up a trust called "plant a million lives" for the lives lost in India to COVID-19 and to increase the natural oxygen.
During the COVID-19 pandemic, using my personal experiences, I often talked to other people about the sustainable grassroots actions each person can take at their home.
In April 2021, my dad had acute heart illness and I had severe COVID. My father passed away on May 3rd, 2021. Refusing to be defeated by this setback, I made a fresh determination to move forward and lead a life of value creation, in honour and memory of my father and brother. With the launch of the BSG for SDG campaign in July 2021, I personally wanted to take actionable steps at the grassroots. Using President Ikeda's 2020 Peace Proposal and the 2015 Paris Climate Agreement as my main weapons, I held dialogues with young students, NGOs, and UN Agencies, to help create a blueprint, to limit the emission of greenhouse gases & reduce global warming by changing patterns of energy production & its usage.
In 2022, as part of the SDG goal of quality education and equal access to all, I was selected from a pool of scholars to join a prestigious Lakshmi Mittal Institute at Harvard University program to serve the Indian subcontinent. Here the underprivileged students enrolled in public colleges are taught about STEM, Microbiology, and Climate Sciences by Ivy League professors, and I assist them in preparing the research for climate & life sciences, this fellowship program is funded by L. N. Mittal South Asia Institute at Harvard University.
In September 2022, I joined as an Associate Director of an International Civil Society organisation working on climate change, education and healthcare issues, in the North East India & Uttarakhand with a new focus on holding capacity-building workshops on recycling plastic and healthcare waste in the union territories. On January 2nd, 2023, the birthday of my mentor President Ikeda, we were selected as the India Coordinators for SEWA – Sense of Service, Volunteerism and Philanthropy Working Group of Civil 20 India, a special civil society campaign of G20 India 2023 presidency, which will guide the charter for G20 declaration through the UN SDG policy papers.
To repay my debt of gratitude to my mentor, I determine that towards 2030, I will initiate a reverse process of global warming by ensuring use of 80% renewable energy in the transportation sector of Delhi-NCR & achieving 70% of SDG goals in the private sector. I will also ensure accomplishment of our target of planting one million tree saplings by 2030.
SDG Tip for Daily Life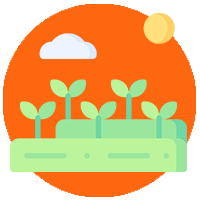 Here are some practical tips on how each one of us can adopt sustainable human behaviour in our daily life for a clean and green summer!
Increase shade around your home by planting trees and vegetation around your home and in your community.
Develop rooftop gardens.
Install window awnings such as shutters, retractable bamboo blinds and khus-khus mats to absorb heat from walls, floors, windows, etc.
Create pockets of ventilation to manage air flow inside the house.
Instal cool roofs to reflect sunlight and heat away from your home.
Take cool showers and dress in light and loose clothing made from natural fabrics.
Plan ahead. Schedule activities in the coolest part of the day and avoid exercising and being outdoors in the heat.
If you must go out, wear a hat and sunscreen, and take a bottle of water with you.
Use energy-efficient appliances and equipment; this helps to reduce the load on the electric grid during heat waves.
Reduce energy consumption (and electricity bills) by using fans or coolers instead of air conditioners when possible; and using less artificial light by taking advantage of extended summer sunlight.
If using an air conditioner, make sure it is serviced to improve its energy efficiency and try to keep the temperature of your air conditioner above 24 degree celsius to reduce energy consumption.
Wear light, breathable fabric such as cotton, linen, sheer and khadi to keep you comfortable during hot summers.
Protect your digestive system – eat locally-grown home-cooked food instead of processed food which is filled with preservatives. This will protect your internal organs from overworking during heat waves and help keep cool.
Eat smaller meals more often and cold meals such as salads to support your internal organs from overworking in the summer season.
Protect your skin – use organic cosmetics including moisturisers and sunscreens instead of buying those laden with chemicals.
Reduce your plastic waste, and carry a reusable cloth bag and water bottle with you when going out of home/travelling for summer vacations. Reduced waste will help reduce carbon emissions, thereby reducing rising temperatures.
Check in on others. Look after those most at risk in the heat – your neighbour living alone, the elderly, the young, people with a medical condition and don't forget your pets.
Make sure food that needs refrigeration is properly stored.
Don't let your car run idle on red lights or while waiting at the curb to reduce your vehicle's fuel economy, as well as to reduce carbon emission and air pollution.
Watch, read or listen to news reports to find out more information during extreme heat and when heat waves are forecast.
Contact Us

Any queries or suggestions regarding the newsletter can be addressed to sdg@bharatsokagakkai.org

To know more about the 'BSG for SDG' initiative, visit the BSG for SDG website

Download the 'BSG for SDG' mobile app with the carbon footprint calculator