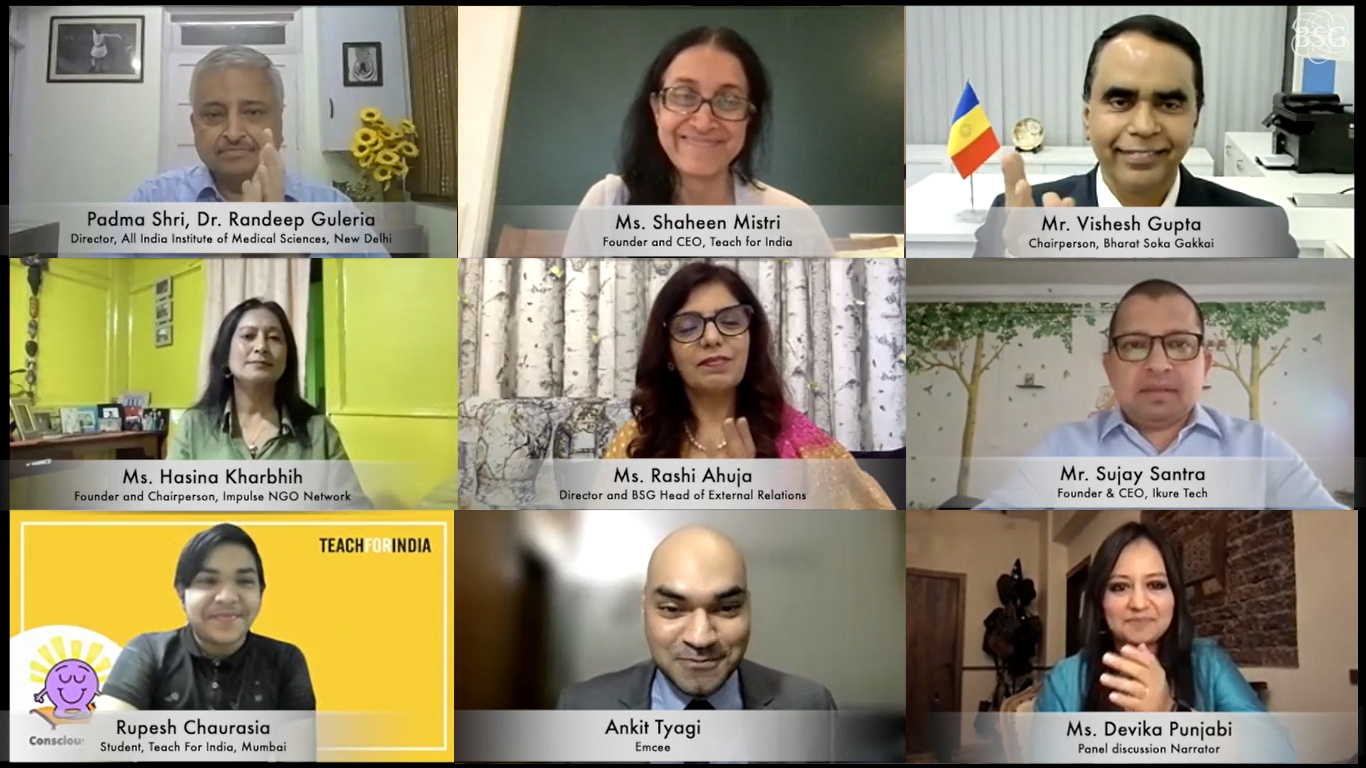 Report
A Peace symposium webinar titled "Value Creation in a Time of Crisis" was held on Wednesday, 8th September 2021. The webinar focussed on President Ikeda's 39th Peace Proposal in which he calls for global cooperation to address the key issue of our time: the COVID-19 pandemic.
The webinar was based on a panel discussion format and the panelists included Padma Shri, Dr. Randeep Guleria, (Director, All India Institute of Medical Sciences, New Delhi), Ms. Shaheen Mistri, (Founder and CEO, Teach for India), Ms. Hasina Kharbhih (Founder and Chairperson, Impulse NGO Network), Mr. Sujay Santra, (Founder & CEO, ikure) and Mr. Vishesh Gupta (Chairperson BSG). A young participant, Rupesh Chaurasia, from Teach for India also shared his impressions.
The webinar started with a short film on the 2021 Peace Proposal highlighting the key aspect of value creation. In the panel discussion that followed, the panelists shared their unique perspectives on a few key points from the Peace Proposal including 'The spirit of leaving no one behind' and 'Value creation in a time of crisis'. This was followed by a lively QnA session.
In the panel discussion, Dr. Guleria talked about the challenges faced by healthcare workers during the Pandemic. He shared the struggles of healthcare workers – how they struggled with stigma, fear and pain but they never neglected their duty and continued to move forward. He also shared that "This challenging time brought out the resilience in people in a time of crisis. This shows that goodness exists in all people, but we need to unravel it and demonstrate it". His reassuring words regarding 3rd Wave of Covid (that it will be milder) put the audience at ease and at the same time prompted everyone to remain vigilant.
Talking about the role of education Ms. Shaheen Mistri said, "There has never been a time in history when we have needed to operate as much with love as we do today and my belief is that our schools can play a huge role in building not just learners, but a humane society." She also gave a fresh perspective for educators "In education the one thing that we can give students is the community of people who will always be there for them".
Representing Teach For India in the panel discussion was a student Rupesh Chaurasia. Rupesh shared his experiences and his dream for a hope filled future through a powerful rendition of a poem which saw an overwhelming response from the audience.
Lauding the Peace Proposal, Ms. Hasina Kharbhih offered her perspective and said, "we must be fearless and faithful around the change we want to see, especially during the time of crisis". She added, "Whenever there is a problem there is always a solution, but we need resilience. When you have resilience, you can come with better solutions."
Mr, Sujay Santra highlighted the importance of 'Collaboration' to become a society where no one is left behind. He cited the example of his organization (iKure), where he brought multiple stakeholders under one platform – the govt, people on the grassroots and other agencies, to work towards delivering quality healthcare.
On behalf of BSG, Chairperson Mr Vishesh Gupta, participated as a panelist and shared the Buddhist perspective and Soka Values on each question. He shared that the 'spirit of never leaving anyone behind' is contained in one single word – 'Compassion' and that 'Value creation' can be done only in times of crisis when we look at challenges as opportunities.
The webinar concluded with presentation of mementos and vote of thanks delivered by WD Chief Ms. Rashi Ahuja
Many guests who attended the webinar shared their feedback that they found the session extremely enriching and thought-provoking.
The symposium was widely covered by media, a few clips are attached.