In an effort to implement Soka Gakkai founder, Tsunesaburo Makiguchi's philosophy of Soka, or "Value Creating" education, Dr. Ikeda has founded, schools and educational institutions worldwide, giving concrete expression to his conviction that education is humanity's most important undertaking.
Soka Education is based on a belief in the infinite potential of the individual. Rooted in a profound respect for human life, it seeks to nurture courageous people of wisdom, who can contribute to the realization of a peaceful world. Soka School System has been established in Japan, Hong Kong, Singapore, Malaysia and Brazil. Soka Universities were established in Japan in 1971 and in USA in 2001, with the objective of fostering global citizens.
Seeds of hope exhibition held in conjunction with XUB Sustainability Summit – 2016

[© BSG]
The Sustainability Summit is an annual event organized by the Xavier School of Sustainability (XUB). This year, the 2nd annual XUB Sustainability Summit – 2016 was held at XIMB campus and XUB Xavier City Jatni campus, during August 11-13, 2016. The theme of this year's summit was Energy, Peace and Global Governance.
With 156 speakers and delegates, the 2nd Annual XSoS Sustainability Summit 2016 was inaugurated on 12th August, 2016, at Xavier Institute of Management, Bhubaneswar. His Excellency Dr. S. C. Jamir, Hon'ble Governor of Odisha, inaugurated the summit and presided over the event as the Chief Guest. The other distinguished personalities who graced the occasion were Shri. Upendra Tripathy, IAS, Secretary, Ministry of New & Renewable Energy (MNRE), Government of India, Mr. Anup Sahay, Chief, Corporate Strategy & Planning, Tata Steel, Mr. P S Narayan, VP & Head, Sustainability, WIPRO and Ms. YumiBae, Chief, Field Office, UNICEF, Bhubaneswar.
Building a Culture of Peace for the children of the world exhibition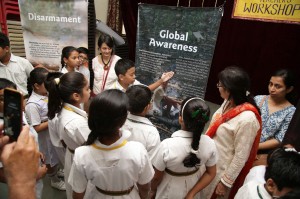 [© BSG]
Bharat Soka Gakkai (BSG) organized the exhibition, 'Building a Culture of Peace for the Children of the World' in collaboration with the Green Field School, Safdarjung Enclave, at latter's premises on August 5-6, 2016.
The exhibition that has been shown in many countries over several years, has impactful panels such as 'The United Nations and the Culture of Peace', 'Paths to Peace', 'Community', 'Disarmament', 'Heroes of Peace', and many more. It brings together the ideas of thousands of people and organizations dedicated to finding a path to lasting peace in daily life.
"Gandhi, King, Ikeda: A Legacy of Building Peace" Exhibition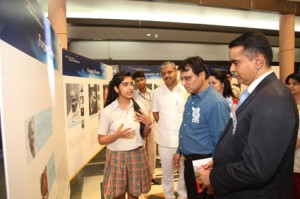 [© BSG]
ASN School in Mayur Vihar-I, New Delhi hosted the Gandhi, King, Ikeda: Building a Legacy of Peace exhibition in association with Bharat Soka Gakkai, from 21-23 April, 2016. This is an international exhibition put together by the Morehouse College, USA.
Indian freedom fighter Mohandas K. Gandhi, American civil rights advocate Martin Luther King Jr., and Buddhist philosopher, educator and author Daisaku Ikeda — three men from three different cultures and continents, have followed a common path of profound dedication and achievement in improving the lives of all people. The exhibition conveys the ideals and principles that these giants of the 20th century, lived by and propagated.
Workshop on 'Another Way of Seeing Things'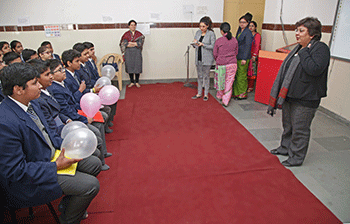 [© BSG]
On the morning of 23 February 2016, Himalaya Public Senior Secondary School became the venue for an interactive workshop on 'Another Way of Seeing Things'. In an initiative to introduce and inculcate in students the importance of perspective, the power of choice, and positive values to lead a contributive life, the workshop was led by representatives from the Education Division of BSG.
Encouraging children in MCD schools to read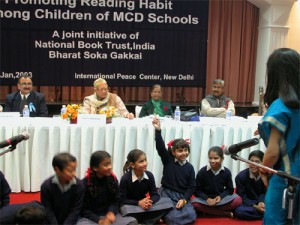 [© BSG]
In collaboration with National Book Trust (NBT), BSG's Education Division organised a seminar on storytelling, to rekindle a love for books and to reintroduce this traditional, warm, person-to-person method of imparting knowledge. Together with the Municipal Corporation of Delhi (MCD), BSG has initiated a library project to create a love for reading among children in MCD schools. Under this project, BSG has set up 144 'classroom libraries' in 10 MCD schools, for classes I to 5.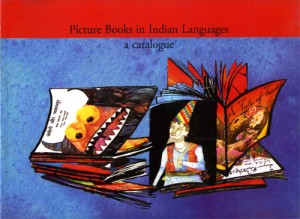 [© BSG]
In 2001, BSG's Education Division compiled a unique catalogue of more than 1,000 picture books for children in 20 Indian languages, titled Picture Books in Indian Languages—A Catalogue, and provided it to schools and libraries nationwide.
For street children and slum children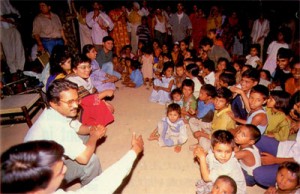 [© BSG]
BSG's most significant contributions have been in reaching out to the vulnerable and the marginalised. The Youth Peace Committee, in association with the NGOs Disha and Butterflies, took the initiative to improve the lives of street children and slum children. BSG members have also acted as scribes for blind children.