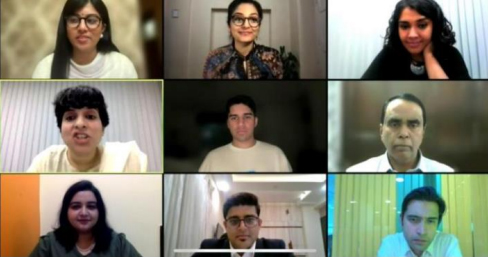 A webinar titled 'The Power of One: The Solidarity of Youth' was held on Thursday, November 18th, 2021, to encourage and inspire young people to stand up and make a difference. The webinar was attended by an audience of over 10,000, including many from the media. The webinar was based on a panel discussion format and the panelists included Ms. Hemakshi Meghani (Co-Founder, Indian School of Democracy), Mr. Karan Jerath (Scientist, UN Young Leader for the SDGs and Co-Founder: KARTON), Ms. Minal Karanwal (Sub Divisional Magistrate and Project Officer, Nandurbar, Maharashtra) and Mr. Sumant Misra (All India Young Men's Division Chief, BSG)
The webinar started with a cultural performance prepared for the webinar by the Youth Division titled 'Live Wire of Hope'. This was followed by a melodious rendition of the song 'Morigasaki', by members of the New Age Symphony Performance Group. A short film was then screened, in which several BSG youth members shared their personal journeys highlighting the 'The power of one'.
In a meaningful and lively panel discussion that followed, the panelists shared their unique stories, struggles and key messages to the youth.
Hemakshi Meghani, Co-founder, Indian School of Democracy, spoke about the need for good role models to look up to. She said, "As we grow, we need role models and relatable role models. I think that stored a drive into me, and my life choices aligned." Hemakshi also talked about the need to develop emotional resilience by listening to one's own voice by "finding a purpose which anchors you". She also said that youth need to hone the ability to accept conflicting ideas and bring the best out of them.
Panelist, Minal Karanwal, a young IAS officer, shared her ideology, one that got her in good stead. She said that her 'secret formula' was to believe in herself no matter what. She shared her thought-provoking experiences of working as an IAS officer in Nandurbar and how she overcame many assumptions and prejudices and opened new avenues. She urged the youth to go beyond their limitations with optimism and courage.
Karan Jerath (UN Young Leader for the SDGs and Co-Founder: KARTON), shared his journey about how the 'Deep Water Horizon Spill' impacted him. Karan spoke at length about being a global citizen. He asked the youth to be more open minded to different cultures and traditions and to be proactive and engaged in one's learning and experiences. He said, "Young people need to shift away from this concept of being a couch activist and do something in your environment that is tangible"
Sumant Mishra, (All-India YMD Chief), shared his conviction about the power of one. He said, "As we are the entity of the universe, we manifest the power of the universe". He also highlighted the importance of working for oneself and others especially in the post pandemic world.
The webinar concluded with presentation of mementos and vote a thanks delivered by BSG Chairperson Mr Vishesh Gupta. In his address, he concisely summed up the key takeaways from each panelist and expressed his gratitude to the audience. He concluded by urging the youth to create their unique success stories based on spirit of challenge and continuous learning. The symposium was widely covered by media, a few clips are attached.