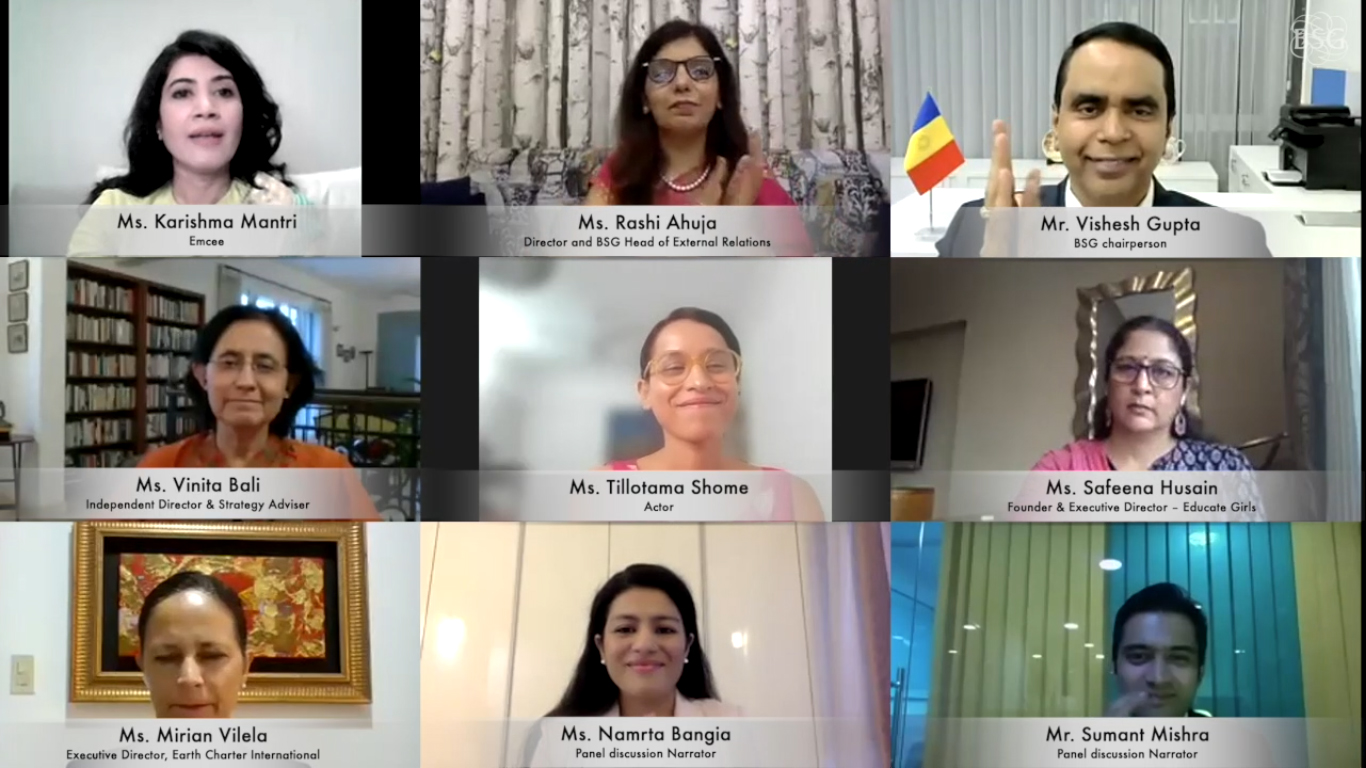 A webinar titled "Beautiful Stories of Women Creating a new age towards 2030" was held on 24 August 2021.
This webinar, which was held to commemorate the 70th anniversary of the formation of the women's division, was attended by over 580 members and 160 guests including many from the media.
The participants in the panel discussion included Ms. Vinita Bali (Independent Director, Strategy Adviser and Former CEO & MD of Britannia Industries), Ms. Mirian Vilela, (Executive Director, Earth Charter International), Ms. Safeena Husain (Founder and Executive Director, Educate Girls), and Ms. Tillotama Shome (Filmfare Award winning Actor).
The panelists and guests were welcomed by WD Chief Ms. Rashi Ahuja in her opening address. This was followed by a short film of testimonials of a few WD members showing how they have shown actual proof in society by following the Soka philosophy. In a meaningful discussion that followed, the panelists shared their own unique life experiences, all converging on the one crucial point of creating a more egalitarian social structure, and a culture of respect for life based on the spirit of equality.
Ms. Vinita Bali talked about the difference between a 'Leader' and 'Leadership' citing example of Mahatma Gandhi. She also asked the men in the audience to "support the women in your immediate environment, stand by them and support them. If all the men take the responsibility to change five more men and if we keep multiplying the whole thing, we can bring a concrete change."
Ms. Mirian Vilela highlighted the importance of being caring and empathetic leaders. She also shared that "women have a sense of spiritual sensibility that allows them to view things from many perspectives".
Ms. Safeena Husain shared the importance of tackling mindsets and said "If all of us just changed that little switch in our brain and saw women for their full humanity we will be able to transform the world".
Ms. Tillotama Shoma said emphatically that "being a peacemaker doesn't mean that one doesn't say 'No'.
On behalf of BSG, Chairperson Mr Vishesh Gupta, concluded the webinar with presentation of mementos and a vote of thanks.
The symposium was widely covered by media. A few media clips are attached.