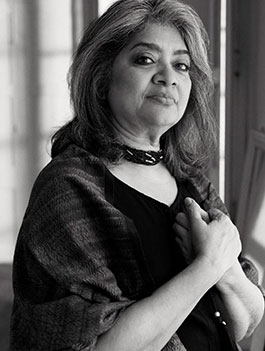 Breaking the Glass Ceiling in the Ad Film Industry
When I left the safety of my cushy job as a Creative Director in India's largest ad agency to start my own ad film production company, it was a bold decision to enter a totally male dominated industry. While I excelled in my work and won many awards, I suffered from crippling self-doubt, hungry for validation from others. Encountering SGI President Ikeda's writings taught me to respect the dignity of my own life, and to become a wiser, stronger, more joyful, more creative human being. 
Determined to do work that would make a positive difference to the world around me, believing in the inherent dignity of a woman's life, I refused to make films for fairness creams or Barbie dolls or gender-insensitive scripts. I made films free on critical women's issues like domestic violence and girl education. I lost clients and projects and was sometimes made fun of. But I also gained a reputation as an outspoken champion of women's rights. I continued to get work, remaining amongst the top three production houses for over two decades.
It's critical for popular culture, entertainment and arts to acknowledge the true role and potential of women in creating a future of peace and dignity. Through consistent efforts, more and more capable women are coming into the workforce and bringing their energy, creativity and unique perspective to the process. Though we have covered a lot of ground, we still have a long way to go to change people's mindset about women and challenge automatic assumptions of women's incapacity. In ad films, women are still portrayed as dependent and powerless – from the mother who is tied to the kitchen stove to the young girl who can't get married because she is dark. But changes are visible – like the depiction of women wrestlers, or couples sharing home responsibilities, or young girls deciding their futures and women claiming their place in the sun.
Awakening to my own inherent potential, I have even made efforts to protect the environment. I produced films free for conservation projects and wild animal protection. I also started an NGO called Vanashakti which is working on the ground, cleaning up rivers like the Mithi, protecting mangroves and wetlands and salt flats, preserving the nesting grounds of Ridley turtles in Goa, and fighting to protect our forests and coastlines. We worked through the Covid-19 pandemic to bring relief to climate refugees and bring about a more powerful wave of climate consciousness