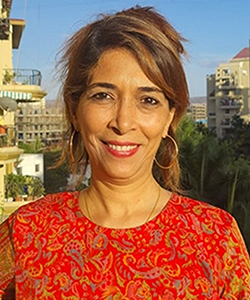 Taking Personal Responsibility for the Growth of the Community
Ever since the 'BSG for SDG' initiative was launched in July 2021, I felt inspired and responsible to implement the SDGs in my immediate environment. I decided to contribute to my community through the conservation of forestland behind DPS School at Nyati County, Pune. When my son Sahil was a kid, we would often go to the quiet and lush green forestland with his friends for picnics. But lately I could see a lot of encroachment and waste being dumped around which was not only an eyesore but hazardous to residents. My initiative started with approaching an NGO, Anandvan, to conserve and beautify the forestland. Together we decided to take up various issues every Sunday.
On 2nd October 2021, I gathered a few volunteers, and we demarcated an area as Anandvan5. With the help of the founder of Anandvan, we planted a few saplings. We intend to take it forward by planting more trees and making an artificial pond. By now we had formed a WhatsApp group and invited volunteers to join the cause.
Next, looking at our neighborhood, we felt that there were few areas which were being turned into regular garbage dumps, leading to unpleasant smells, pollution, mosquito breeding and causing diseases during Covid. We tried our level best to educate the slum areas to avoid garbage dumping and took up with PMC for regular garbage pickup and removal, but it didn't seem to work well. The garbage dump at Nyati Chowk was right at the entrance of my neighborhood. SGI President Daisaku Ikeda says: "Unless we view things with our hearts, we can see nothing. But if we look at the world with a love of life, it will reveal its beauty to us."
Centering myself on my mentor's guidance, I realized I needed to view things with love and not with anger or hopelessness. I then came up with an idea to beautify this place which would hopefully completely stop the garbage dumping. After a few meetings with the area corporator we got our project approved and the work started. In a few weeks, the dump yard turned into a beautiful seating and reading area with a newspaper stand. Now every time I go there, it gives me immense satisfaction and I express my gratitude to my mentor in my heart, expressing my appreciation for how he has always guided us towards creating value in society.
After this single action, many other activities have followed up, such as: – Plogathon, where a group of people along with PMC workers cleared and cleaned a demarcated area and educated the shopkeepers to maintain cleanliness. – The area opposite our residential society had bare walls with people spitting and spoiling them. Our group decided to get the walls beautified with wall art. At first, I thought this would be impossible to culminate; however, with a strong determination, anything is possible. Fortunately, our corporator again supported this cause and I approached a professional artist who is my friend and she agreed for volunteer work. We started our wall art project opposite Nyati Estate. We collected 65 volunteers of all ages and in 15 days we finished the entire wall with beautiful paintings which depict profound messages. The concept was – Life is Beautiful. – We recently organized a free health camp and mobile photography for children to keep them busy in their spare time. These activities contribute towards the health and happiness of people.
I have many such SDG initiatives in mind, and I am determined to implement them soon. As President Ikeda says, "Our aim is the happiness of each resident and the prosperity of the entire region."