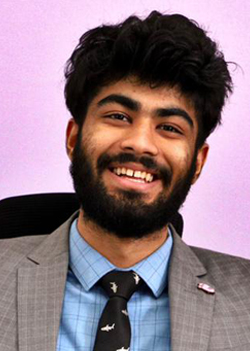 Putting Education into Action for the Betterment of Humankind
It was while pursuing my undergrad in Political Science in 2017 that I was inspired by these words from SGI President Daisaku Ikeda, which he shared as a guide for university students: "For what purpose should one cultivate wisdom? May you always ask yourself this question!" Studying President Ikeda's writings made me reflect deep within my life about the purpose of my education, and I wondered how I can use my qualifications to benefit humankind. I then determined to dedicate my life towards addressing some of the vital challenges facing humanity, such as those encapsulated by the SDGs. Incidentally, it was at that time that I was selected to be part of a research project that required me to work with children suffering from distinct degrees of PTSD (Post-Traumatic Stress Disorder) and chronic illnesses like cancer, tuberculosis etc.
As I worked with these children and experienced their challenges firsthand, it further strengthened my determination to work towards realizing a better world and alleviate needless suffering. It was with this sense of purpose that I established my NGO – "Project uP" with the aim of contributing towards the welfare of children, education and the society overall. Since its inception, our field initiatives for education and development have touched the lives of over 170 children and we have done over four on-field events. Furthermore, looking to support research amongst college students, in partnership with UNESCO, New Delhi, we have trained over 400 college students and helped them become published scholars contributing to SDG 4: Quality Education. Here, for my work in development and capacity building, I was conferred with the prestigious 'Indian Achievers Award for Young Entrepreneur'. Started with a loan, "Project uP" has now become a self-sustaining organization which creates earning opportunities for others. Our team was invited for a special session hosted by the Youth Action Hub – a direct youth led body working under UNCTAD (United Nations Conference on Trade and Development). We received letters of appreciation and acknowledgment for our policy work from multiple stakeholders including the Standing Committee Chairman and Members of Parliament. Our current policy engagement is putting us in direct conversation with a union ministry.
During this time, in addition to my NGO, I was also able to work as a Faculty Associate in a renowned university in Niger, one of the poorest countries in the world beset with widespread hunger and poverty because of a history of military conflict. Through my work here, I was able to help over 200 students through innovative projects and course modules, keeping in heart the principles of humanistic education propagated by President Ikeda, which focuses on believing in each student's inherent and unique potential. I could further establish a fully running project in Niger aimed at education and peace which got recognized for incubation by the country's largest incubator. I was also recently accepted by Oxford University to study Sustainable Development. I am determined to develop myself to the limits of my ability and become the driving force to breakthrough solutions towards achieving the SDGs by 2030.