10th November, 2023
Banur, Punjab
Amidst a world grappling with the complexities of sustainability, a beacon of hope emerged at GGDSD College in Kheri Gurna, Punjab. Bharat Soka Gakkai (BSG) held its latest SOHA exhibition, an inspiring showcase of "Sustainable Human Behavior" (SHB) practices. This marked the 95th SOHA exhibition organized by BSG since 2021.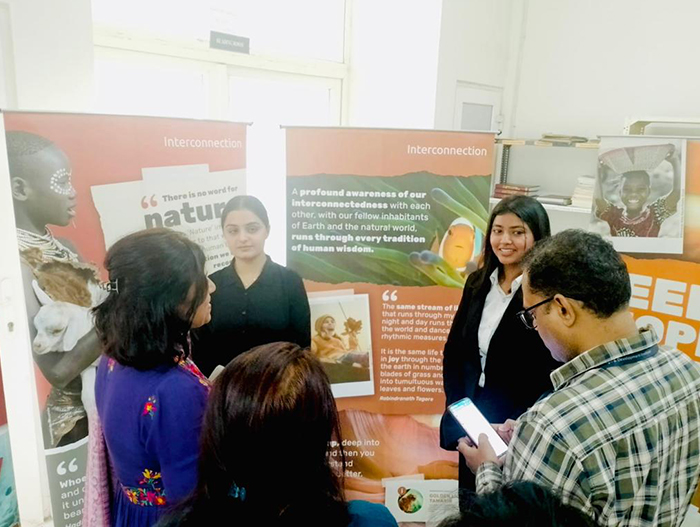 With more than 200 students and teachers actively participating, the exhibition resonated with a collective commitment to embracing SHB as a fundamental lifestyle choice. The energy and enthusiasm was palpable as they united their voices for a sustainable future.
The exhibition unfolds into five distinct segments: "Inspire, Learn, Reflect, Empower, Act & Lead." Each segment delves into crucial aspects of fostering sustainability, providing a comprehensive overview of the challenges and opportunities that lie ahead.
The students of GGDSD College fervently explained the exhibition panels with utmost dedication and passion. Their experience also allowed them to gain a deeper understanding of the United Nations' Sustainable Development Goals (SDGs), the roadmap for achieving a sustainable world.
The exhibition's impact extended far beyond the college walls, profoundly moving visitors and attendees alike. The thoughtful initiative of BSG in bringing this event to the community was met with unanimous applause, as individuals acknowledged the significance of SHB practices in shaping a better future.
Inspired by the exhibition's message, the attendees made a pledge to champion positive changes within their respective communities. They embraced the responsibility of making the world a better place through individual actions, recognizing the collective power of small steps in creating a sustainable future.
The SOHA exhibition at GGDSD College ignited a spark of motivation among all attendees. It exemplified the pivotal role that individuals and communities can play in building a sustainable and better world.
The exhibition was also covered by local media. Some clips and pictures are shared here.