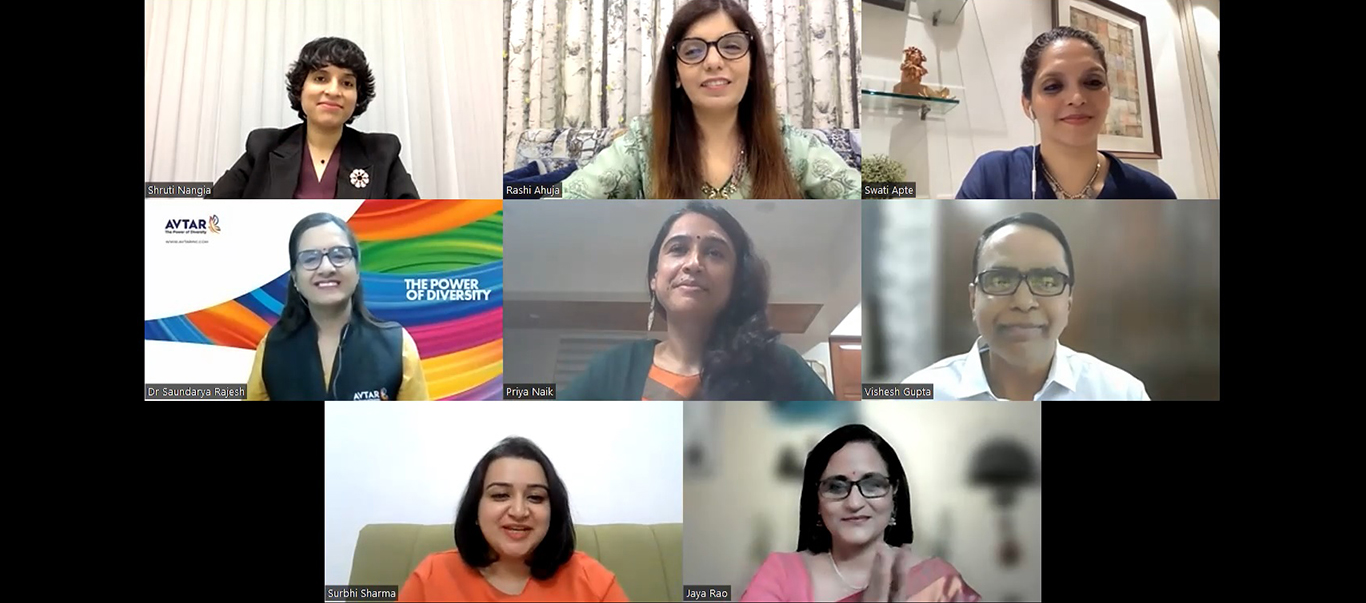 A webinar titled 'Towards 2030: The Power of Women to Build a Century of Life' was held on Tuesday, 21st June 2022 to strengthen the role of Women as Peacebuilders in the 21st Century.
The webinar turned out to be a huge success and was attended by over 7,300 members and guests including many from the media.
The webinar was based on a panel discussion format and the panelists included Dr. Saundarya Rajesh (Founder – President, Avtar Group), Ms. Priya Naik, (Founder & CEO, Samhita Social Ventures), Ms. Swati Apte, (Founder – Director, The Arts Quotient) and Ms. Rashi Ahuja (Women's Division Chief, BSG).
The webinar started with a new BSG Introduction film showing the advance of BSG in the new era of worldwide Kosen-rufu. This was followed by a powerful short film titled 'Voices of Women of Soka' and a melodious performance by Sunshine chorus group.
In a meaningful and lively panel discussion that followed, the panelists shared their unique journeys, their views on 'The Power of Women to Build a Century of Life towards 2030'.
Dr. Saundarya shared her journey and introduced several concepts like 'a relentless optimist', 'universal energy' and importance of 'refusing to give up' and 'role models', etc. She also spoke about 'sankalp' or intentionality and shared an insightful description of 'Anger Vs empathy'..
Ms. Priya Naik talked about the work done by her organization 'Samhita' which is based on the two pillars of 'Trust' and 'Purpose'. She also mentioned the important aspect of 'giving more than what we have received', which expresses the humanity that all of us possess and can become the basis of having joy in our lives.
Ms. Swati Apte described the mission of 'The Arts Quotient' and talked about 'flow vs fight'. She also mentioned 3 things that we should drop when we talk about women's empowerment – 1) 'I have to be perfect', 2) 'I have to do all at the same time' and 3) 'I have to do all by myself'.
BSG Women's Division Chief, Ms. Rashi Ahuja said the women are natural peacemakers and therefore have an inherent mission to create a century of life. She also highlighted the important role played by several ordinary women who contributed immensely to the well-being of those around them especially during the pandemic.
The webinar concluded with presentation of mementos and vote of thanks delivered by BSG Chairperson Mr Vishesh Gupta. In his address, he concisely summed up the key takeaways from each panellist and shared how much he learnt through the stories of each panelist. He expressed his gratitude to the audience and to BSG members who worked behind-the-scenes for the success of the webinar.
BSG members, led by the Women's Division, enthusiastically participated in the webinar. Many of the guests shared their feedback that they found the webinar extremely enriching and insightful.
The webinar was widely covered by media, a few clips are attached.