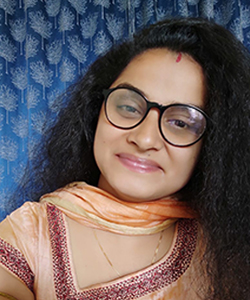 Supporting Marginalized Women Forest Dwellers across India
Coming from a lower middle-class family I had to struggle a lot financially. There were days when I barely managed to afford three meals a day. I wanted to be like everyone else – get admission in a B-School and get a comfortable life. Encountering President Ikeda completely changed my perspective towards life. Rising above his personal challenges as a young man he continued working for humanity and has created history. This inspired me to work for marginalized people in India and to actualize President Ikeda's Peace Proposals which he submits to the UN every year.
As a woman, I faced many difficulties in this field as it required me to travel to the interior pockets of various Indian villages. But I was determined to meet the forest dwellers in their own homes to listen to their struggles. Their lives are very difficult, and I learned from them how with little resources one can be happy.
Women forest dwellers are suffering the most. Violence against women in deep forest areas is highest as per the National Crime Records Bureau report. SGI President Ikeda says: "Women hold the key to opening a future filled with hope, as Mahatma Gandhi emphasized: "If by strength is meant brute strength then, indeed, is woman less brute than man. If by strength is meant moral power, then woman is immeasurably man's superior… If non-violence is the law of our being, the future is with women.""
I have big dreams on how I want to bring change in society. I have started documenting indigenous knowledge and wisdom, particularly from forest-dwelling women in remote pockets of Sundargarh, with the hope that it will serve as a directory for future generations.
I am now involved with community action for Biodiversity Protection and conservation. One of the villages with whom I am working, has taken an initiative to revive lost species and planted native species to protect their biodiversity. This effort has been recognized widely and covered in regional media. This project is now being replicated in 15 more villages with the help of the esteemed 'Duleep Matthai Nature Conservation Trust' which supports activities that contribute to sustaining and enhancing India's Ecological Security, through protecting, restoring and enriching natural ecosystems.