26th September 2018
Chinmaya Mission Auditorium

Report
After a cloudy and rainy spell of several days, bright sunshine opened the skies on 26th September 2018, when the fifth peace symposium of this year based on SGI President Daisaku Ikeda's 2018 peace proposal titled "Towards an
Era of Human Rights: Building a People's Movement", was held at New Delhi.
The Hon'ble Former President of India Shri Pranab Mukherjee was the Chief Guest for the Symposium. The other speakers on the occasion included Dr. George Mathew, Chairman, Institute of Social Sciences, New Delhi and Ms. Shovana
Narayan, Eminent Dancer, Padma Shri and Sangeet Natak Akademi Awardee. The symposium was attended by over 550 members, guests and media. The audience included several eminent educators, government officials, artists, lawyers
etc.
The symposium started with a powerful performance by the BSG Student Division on the 'Song of Trailblazers. As described by BSG Chairperson Vishesh Gupta in his welcome speech, the august gathering resembled a 'Starburst'- where
each person came together to discuss the most important subject of peace.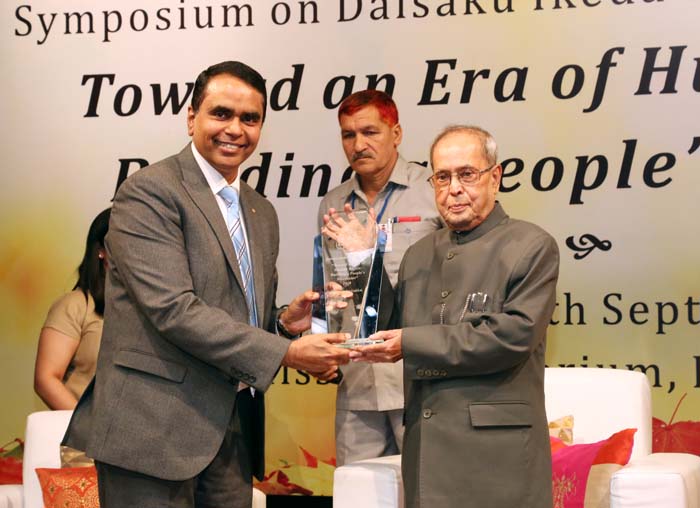 Speaking first Dr. George Mathew congratulated BSG for holding the most historic Peace Symposium just 1 week before the 150th anniversary of Mahatma Gandhi's birth (in 1868) Dr Mathew said, "It is remarkable that when Daisaku
Ikeda assumed the Presidency of the Soka Gakkai in 1960 at the age of 32, he immediately embarked on a series of bold initiates to broaden the scope of the organization, creating a movement, based on a dynamic engagement with
society instead of narrow religious observance. These efforts reflected his belief that the true value of religion and the original spirit of Buddhism is expressed in a sustained commitment to peace and people's empowerment".
Dr Mathew greatly appreciated President Ikeda's contribution through his article on women's empowerment which was published in 'The Times of India' today (on 26th Sep) where he says, "Empower Women to resolve global challenges".
Speaking next Eminent Dancer, Shovana Narayan started by appreciating the wonderful vision and mission of SGI under the dynamic leadership of President Ikeda. She said, "In the past few decades the kind of following that SGI has
had indicates that the message of Peace, the inner core of this movement, has struck a cord in so many hearts, despite being enveloped in an environment of conflict". Ms. Narayan spoke passionately about women's empowerment and
echoed President Ikeda's statement in the peace Proposal where he stated that 'there is no greater treasure than the highest human qualities of compassion courage and hope'
In his speech, Hon'ble former President of India Shri Pranab Mukherjee said, "What struck a deep chord with me is a statement of Ikeda and I quote, "being able to contribute in some way to the happiness of others and the world,
be it through work or in some other capacity, brings one joy and fulfillment in life". These words echo the earnest desire to contribute to the welfare of the society and reflect consistent effort through Annual Peace Proposals
spanning over the last 36 years"
Shri Mukherjee chose to speak extensively on Global nationalism and Human Rights and concluded by saying, "The gathering today is diverse and comprises participants from varied age groups and fields. It's heartening to see many
youth in participation today. And I couldn't agree more with the Soka Gakkai's conviction that Youth have a special aptitude for sharing what they have learnt which makes them a powerful force for expanding the circle of those
committed to overcoming and shifting the global current from one of division and conflict to one of coexistence."
Shri Mukherjee called out to the youth of India, to unite together, become the voice of change to make the world – one global society in which no one is left behind. He said "I congratulate Bharat Soka Gakkai for their
activities and initiatives and their spirit of unity"
The symposium concluded with presentation of mementos to the speakers and vote of thanks by Ms. Rashi Ahuja, Director and Head of External Relations, BSG.
Many guests were deeply moved by clockwork precision of the arrangements and the warmth of the members who welcomed them and at the same time they felt powerfully invigorated by the power and passion of the youth in attendance.
Dr George Mathew later commented that "This was one of the best program I attended internationally..Congratulations!" Another eminent guest remarked, "An excellent program which has inspired me to join this movement for world
peace".
The symposium was widely covered by both national and local media.
Photo Gallery