September 9, 2016
New Delhi.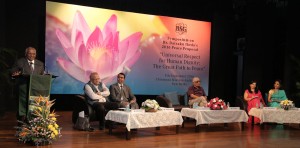 The fifth peace symposium of this year was held in New Delhi on the 9th September 2016 based on President Ikeda's Peace Proposal for 2016.
The symposium was well received and was attended by around 450 members, guests & VIPs. There were also student guests from leading educational institutions in attendance.
To discuss the peace proposal, the eminent speakers at the symposium were Justice K.G. Balakrishnan, Former Chief Justice of India and Former Chairperson of the National Human Rights Commission of India, Mr. H.K. Dua, Former Chief Editor, Hindustan Times, The Indian Express and The Tribune, former Member of the Rajya Sabha and Padma Bhushan Awardee and Mr Nitin Desai, Former Under-Secretary General (Economic and Social Affairs), United Nations.
In his address, Mr. H.K. Dua said, "No war in the world has ever sorted out any problem. It only leads to another war of a different kind, fought in a different place with a different technology." He also drew attention to the image of a poor Vietnamese girl set on fire by a Napalm bomb crying and running through a rice field and the image of the man carrying his wife's body in Odisha's Kalahandi district. He said the peace proposals submitted by Soka Gakkai International President Daisaku Ikeda to the United Nations every year offer a ray of hope in a world rife with conflict.
Speaking next, Mr. Nitin Desai said that the two images mentioned by Mr Dua bring to mind the purpose for which United Nations was designed – to end the scourge of war and poverty. "We have not succeeded in the task," said Mr Nitin Desai. "People's lives have still not been made secure with all the things that we are trying to do." He added that the challenge "we face is we live in a more globalised world for which we need a global ethic." Our challenge is to design a process that finds common ground," added Mr Desai.
In his keynote address, Justice Balakrishnan said, "Human rights activities must focus on giving our voice, to those who are embedded in various difficulties but are not in our field of vision." .."I deeply hope that the United Nations passes and ratifies Mr Ikeda's peace proposals as convention to be implemented by various countries. While countries are not strictly bound by UN conventions, they definitely can do so and form their municipal laws on basic ideas of UN conventions, of which bringing happiness to the greatest number of people is most essential," he said.
He also noted that India as a country is not poor because it lacks resources but because there is no judicious use of it. Human rights activities must focus on giving voice to those who are stuck in various difficulties but whom we cannot see, he added.
The speeches were followed by a brief panel discussion.
The symposium began with a welcome address by BSG Chairperson Mr. Vishesh Gupta and concluded with presentation of mementos and vote of thanks by WD Chief Ms. Rashi Ahuja.
The symposium was widely covered by both national and local media. A few media clips are attached.