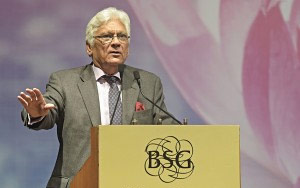 The fourth peace symposium of this year was held in Mumbai on the 27th of August based on President Ikeda's Peace Proposal for 2016.
The symposium which was held in collaboration with Tata Institute of Social Sciences (TISS), was widely appreciated and was attended by around 450 members, guests & VIPs. There were also student guests from various leading educational institutions in attendance.
To discuss the main points, the eminent speakers were Mr. Prakash Shah, India's Former Permanent Representative to the United Nations and Former Ambassador to Japan, Dr. Ajit Ranade, Chief Economist to the Aditya Birla Group, Ms. Shaheen Mistri, Founder and CEO, 'Teach for India' and Professor K.M. Parivelan, Chairperson and Associate Professor at the Nodal Centre for Human Rights Education, School for Legal Rights and Constitutional Governance, Tata Institute of Social Sciences.
In her address, Shaheen Mistri said, "The peace proposal had several points that I could connect with. For instance, that everyone has the right to be happy. I think it is important to touch the life of each person. We need to ask ourselves what is it that I can do in this single minute, day or night to help others. I truly related with the concept of the courage of application and the beauty of transformative leadership. Through concrete action, we can change the climate and contribute to the peace and happiness of each and every person."
Mr. Prakash Shah started by sharing that he has met SGI President Daisaku Ikeda both in Delhi and in Tokyo and lauded his endeavours for Peace. Mr. Shah talked about the need to reduce the world's stockpile of small arms and nuclear weapons. He further said, "As President Ikeda says, that while we cannot eliminate the problems the reduction itself is a process by which we can move towards elimination — whether it is poverty, suffering of children, HIV or the Ebola virus, the reduction is a step towards elimination. Our efforts in these areas will go a long way in implementing what Dr Ikeda writes in his proposals."
Dr. Ajit Ranade said that no stone could be left unturned in the pursuit of peace. He added, "Where does peace come from? Peace actually comes from justice and justice comes from the idea of fairness, we all need to be treated fairly. Peace is not a matter of debate and there is no compromise. In India we are politically equal but social and economic inequality exists. We need to remove this contradiction between political equality and social and economic inequality.
Professor K.M. Parivelan found the peace proposal inspiring and profound. He felt, "The principle that we need to reach out to everyone and not leave anyone behind is very important. We need to truly respect and believe in the inherent dignity of all life. We all need to take this message of peace and practise it."
This was followed by a brief panel discussion.
The welcome address was given by BSG Chairperson Mr. Vishesh Gupta and vote of thanks by WD Chief Ms. Rashi Ahuja.
The symposium was widely covered by both national and local media. A media clip is attached.