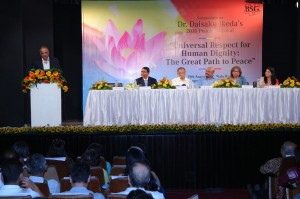 The third peace symposium of this year was held in Kolkata on the 19th of August based on President Ikeda's Peace Proposal for 2016.
The symposium was a huge success and was attended by around 400 members, guests & VIPs.
Discussing the main points of the proposal were eminent speakers: General Shankar Roy Choudhuri, PVSM, ADC, Former Chief of Army Staff, Ex Rajya Sabha Member, Mr Atri Bhattacharya, Principal Secretary, IAS, Departments of Information and Cultural Affairs, Government of West Bengal, Ms. Sujata Sen, CEO, Future Hope and Former Director, East India, British Council and Dr. Kunal Sarkar, Eminent Surgeon.
All the speakers came from different backgrounds and offered fresh perspectives on the Peace proposal. They also lauded BSG for organizing a such an event against the backdrop of violence and unrest worldwide.
In his inaugural address, Mr Atri Bhattacharya complimented President Ikeda on his belief that each human being is worthy of respect. He strongly supported the ideas put forward in the peace proposal. For instance, moves towards dialogue and creating an atmosphere of tolerance. Here Mr Bhattacharya felt that the best way to achieve this is through one's exemplary behaviour. Finally, he spoke about the youth and strongly agreed with President Ikeda's focus on the youth being the force for change.
The second speaker, Ms Sujata Sen said, "In an interconnected world it is not enough to recognise the good done by others, the responsibility to do good lies with all of us, because the failure to do good will produce an evil outcome." President Ikeda's belief that those who have experienced the greatest suffering have invaluable lessons and capacities to share was a thought she resonated with. She added another point from the peace proposal — that education is the key to taking any vision forward but added that education should be provided with love, care and individual attention to the total needs of a person.
In his special address, the eminent cardiologist, Dr Kunal Sarkar spoke of another aspect that related to respect for life – a new dimension to the dignity of human life – the right to health. A good health care system is what guarantees that a human being has the strength to live with dignity. Health, he said is a very neglected sector today. When a person is ill and suffers he does not have the life force to be compassionate. What is required he says, is a 'healthcare revolution' and the freedom to seek healthcare.
In his keynote address General Roy Choudhuri recalled his personal experience during the Bengal partition and said that the highest form of disrespecting human dignity is colonialism. Looking at all decisions through the prism of human dignity is very important he felt. Respecting human dignity is something that begins in our own home, in our own vicinity and not in some distant place, he said. Dignity is the divine right of every individual. He agreed with President Ikeda's standpoints in the Peace Proposal and complimented and applauded the Bharat Soka Gakkai for taking such initiatives in bringing about a change in society.
The welcome address was given by BSG Chairperson Mr. Vishesh Gupta and vote of thanks by WD Chief Ms. Rashi Ahuja.
The symposium was covered by the national and local media. Please see the attached document for a couple of coverages.