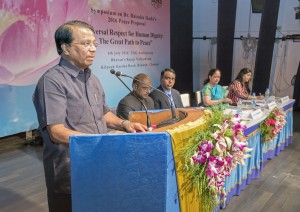 Bharat Soka Gakkai organised its first peace symposium of this year in Chennai on the 6th of July based on SGI President Daisaku Ikeda's Peace Proposal for 2016, titled "Universal Respect for Human Dignity: The Great Path to Peace".
The symposium was attended by over 600 guests & VIPs.
There were three speakers – Dr G.Viswanathan, Founder and Chancellor of VIT University, Dr D. Vishwanathan, Former Vice Chancellor of Anna University and Dr Lalitha Balakrishnan, Principal MOP Vaishnav College for Women, Chennai.
All the three speakers were very appreciative of SGI President Ikeda and SGI and congratulated BSG for organizing a seminar on world peace which is a big step considering the present situation in our society where people do not care even for their neighbors.
The first speaker Dr D. Viswanathan spoke on the role of education in society and the responsibility of teachers shaping the future of the students and empowering them to follow the right path in life. He also shared few learnings from his mentor Dr Abdul Kalam (former President of India) who always stressed on the role of the youth in achieving world peace.
The second speaker Dr Lalitha Balakrsihnan emphasized on creating inner peace by becoming more positive person and also by creating harmonious families which will lead to peaceful societies and peaceful world. She echoed SGI President Ikeda's Message of resolving conflict through dialogue and said "In any conflict, one should not react, but, respond".
The Keynote Speaker Dr G Vishwanathan also emphasized on the role of education in shaping an individual and thereby society especially the role of youth. He mentioned he was very happy to learn that 50% of BSG membership is youth. He also supported President Ikeda's views on Nuclear Disarmament.
The welcome address was given by BSG Chairperson Mr. Vishesh Gupta and vote of thanks by Director & Head – External Relations Ms. Rashi Ahuja.
The symposium was well covered by the media – both electronic and print.