September 28, 2013
Hall of Culture, Nehru Centre, Mumbai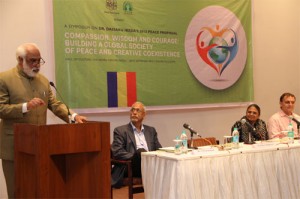 Bharat Soka Gakkai, together with the Tata Institute of Social Sciences (TISS) organized a seminar on President Ikeda's 2013 peace proposal at the Hall of Culture, Nehru Centre, Mumbai, on September 28, 2013.In his opening remarks, TISS Director S. Parasuraman focused on the issue of human dignity in India, an issue that SGI President Ikeda's 2013 peace proposal examines extensively. Dr Parasuraman said people are being displaced from their lands and deprived of their livelihood with no alternatives being offered to them. The last, he said, had resulted in conflicts like the Maoist insurgency. He stated that in the prevailing competitive market economy, the dispossessed have no access to justice. However, he asserted, a lot of young people in India want to bring about change and are willing to work with those who are poor and vulnerable.
Former Political Director for Peacekeeping, Humanitarian and Human Rights Affairs at the UN, Kishore Mandhyan, stated that India is a very special country, for here he often gets "glimpses of humanity". The core emphasis of the peace proposal, Dr Mandhyan stated, is the self-transformation of individuals. As a negotiator for the UN, Dr Mandhyan stated, the best assurance for negotiations was "empathy of the heart and the ability to look the other person in the eye". He emphasized that compassion is wisdom of the heart, not of the mind. "We need to focus on the person in front of us," he added.
Director of the Society for the Promotion of Area Resource Centres (SPARC) Sheela Patel said SGI President Ikeda's peace proposal touched her very deeply and forced her to question her own reality, beliefs and commitments. She focused on the problems of rapid urbanization and the challenges brought about by such changes. She claimed that by 2030, depression would be the major cause of death, exceeding even the number of people who die from chronic diseases. She said the peace proposal, with its emphasis on compassion, has huge implications for the health and well-being of all people.
Founder and Executive Chairman of Magic Bus Matthew Spacie said children from poor backgrounds in India have limited choices in life.
Former Director of the National Gandhi Museum Varsha Das said that in order to ensure dignity to each individual, a spiritual framework is needed in society.
Dr. Das said President Ikeda has written this proposal to return dignity to the individual through a grassroots movement (like the SGI) in which each of us can participate. "This can be achieved if each of us were to think globally and act locally."