September 30, 2013
Saturday Club, Kolkata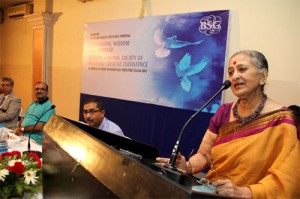 Nearly 350 people gathered at the Saturday Club, a landmark of Kolkata, on September 30, 2013, to attend a seminar titled Compassion, Wisdom and Courage: Building a Global Society of Peace and Creative Coexistence, based on SGI President Daisaku Ikeda's 2013 peace proposal. The peace proposal emphasizes the importance of building a global society based on creative coexistence and dignity of life. SGI President Ikeda has called for the establishment of a "Social Protection Floor (SPF)" in every country to ensure that those suffering from extreme poverty are able to regain a sense of dignity. He argues that although governments provide social safety nets, there are always people who "slip through such nets". The concept of SPF would support such people and build a culture of human rights in every country.
Former Pro Vice Chancellor of the University of Calcutta and distinguished historian Bharati Ray said in her keynote address that President Ikeda's thoughts were similar to those of poet laureate Rabindranath Tagore, who believed in the power of humanistic ideas. The 2013 proposal, she said, focused on building a global society — not a local one, since humankind is one — with the tools of compassion, wisdom and courage. Further, the proposal emphasizes that peace is not just the absence of war but a state of mind and society in which there is no inequality or inequity.
President of All-India Lawyer's Association (Calcutta High Court) and Member of Senate of Calcutta University, Bikas Ranjan Bhattacharya, said, globally, absence of war is equaled to peace, although inner peace is equally crucial. Peace, he elaborated, has to be collective peace, and not limited to some individuals. Therefore, everyone needs to think of change collectively. Mr. Bhattacharya also spoke of the importance of compassion, a crucial aspect of peace-building. Equally significant is the urgency to fight off inequality to achieve peace. In fact, Mr. Bhattacharya said that SGI President Ikeda's proposal was to fight poverty in order to bring about world peace.