September 29, 2013
Seminar Hall, University of Madras, Chennai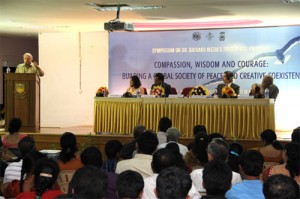 On September 29, 2013, a group of scientists, columnists, academicians and diplomats came together to discuss SGI President Ikeda's 2013 peace proposal at the Seminar Hall in the University of Madras, Chennai.Chairman of MS Swaminathan Research Foundation and father of India's Green Revolution Dr MS Swaminathan gave the keynote address at the seminar.
Dr Swaminathan said that food, health and education are fundamental requirements for improving the quality of people's lives. "SGI President Ikeda believes that where hunger rules peace cannot prevail." He also drew attention to the common pool of values that SGI President Ikeda, Mahatma Gandhi and Martin King Luther, Jr promoted: diversity, the worship of diversity or understanding of diversity or tolerance of diversity. Dr Swaminathan reinforced SGI President Ikeda's suggestion in the proposal for the formation of a 'Social Protection Floor (SPF)' to ensure a life of dignity, especially for all poor people.
Reinforcing the tenets of the peace proposal, columnist, author and retired IAS officer BS Raghvan talked about the crisis of character that is wrought by the startling pace of economic growth in the world today. He stated that this obsession with the hectic speed of existence and the exclusion of the spiritual, intellectual and the social dimensions of that growth, would prove disastrous. "That is why SGI President Ikeda's mission, SGI President Ikeda's call, that has a transcendental approach to human existence, becomes important." He said SGI President Ikeda's proposal encouraged everyone to embrace people whom society might neglect, disregard and discard.
Consul General of Japan in Chennai Masanori Nakano described how poverty caused distress and prevented people from assuming a meaningful role in society. Mr Nakano quoted SGI President Ikeda's words that "poverty deeply wounds human dignity." He added: "With growing globalization in recent years, there has been an increase in humanitarian crisis, resulting from transnational threats such as terrorism, environmental destruction, the spread of infectious diseases, sudden economic crises and so on."