November 24, 2012
Tata Institute of Social Sciences (TISS) Convention Centre, Mumbai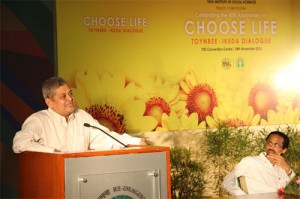 The world today needs to focus on GNW (Gross National Welfare) and not on GDP, declared Tasneem Zakaria Mehta, Managing Trustee and Honorary Director, Dr Bhau Daji Lad Museum, Mumbai, at the Choose Life peace symposium held at the TISS Convention Centre on 24 November 2012.Ms Mehta said that SGI President Ikeda's idea of developing GNP was very appealing, as the primary consideration in the world today is "cultural and spiritual welfare". She said that instead of measuring how much a country produces in a year, it is far more important to know how well the product serves the needs of citizens. She stated that the Toynbee-Ikeda dialogue dealt with every topic connected to life — spirituality, religion, politics, environment, good and evil, urbanization, motherhood, and social structure.
Besides Ms Mehta, the panel included Kishor Chaukar, Chairman, Tata Council for Community Initiatives; and P.K. Shajahan, Associate Professor and Chairperson, South Asia Centre for Studies in Conflicts Peace and Human Security, TISS.
Dr Shajahan said while technology and human intelligence have reached their peak, human exclusion and marginalization have also increased beyond measure. He found SGI President Ikeda's use of dialogue as an appropriate tool to realize peace in the world today. Mr Chaukar posed a question to the audience, "What is happiness?" Drawing from different fables, he stated that true happiness lies in contentment and the two requisites for contentment are responsibility and discipline. He asserted that organizations such as BSG instill a sense of responsibility and discipline among people.
Nearly 400 people attended the symposium including several university students, academics and media persons. Specially designed commemorative plaques were presented to all the speakers. In recent years, TISS and BSG have collaborated to promote ideas of human dignity and justice.
A short film titled, Towards the Century of Humanity, was shown at the start of the symposium to convey the common conviction of Toynbee and SGI President Ikeda.