December 17, 2012
Kala Kunj, Kolkata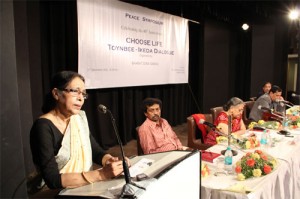 Choose Life is the ananda mantra for peace, declared Bharati Mukherjee, ex-vice chancellor of Rabindra Bharati University, Kolkata, at the peace symposium organised at Kala Kunj, Kolkata, on 17 December 2012.Prof. Mukherjee emphasized that peace today is possible not in the scientific and technological world but "in the ethical world". She said that if we remember this mantra, "we will be able to win over ourselves, win over our own greed and save mankind."
Besides Prof. Mukherjee, the distinguished and diverse panel of speakers included Goutam Ghosh, acclaimed film director; Gautam Mohan Chakrabarti, IPS, Director General (Traffic), West Bengal; and Bharati Ray, ex-Pro Vice Chancellor for Academic Affairs, Calcutta University.
Prof. Mukherjee, who delivered the keynote address at the symposium, said that although the Choose Life discussions were held 40 years ago, they continue to serve as a "manual" to guide us today to choose values that are pertinent for leading a good life, a life that is "moral, ethical and religious". The 71-year-old scholar defined the dialogue as a "search for peace by two great minds", who belonged to different cultures and religions but were united in their quest for happiness of all human beings.
Prof. Mukherjee drew attention to the Buddhist concept of esho funi (i.e., human beings and their environment are inseparable). All the four Vedas, Prof. Mukherjee elaborated, indicate how man and environment are "tied in a tight knot together". Unfortunately, she stated, scientific development has made us forget this close relationship. In Choose Life, she said, SGI President Ikeda has offered pragmatic solutions to resolve the crises of the 21st century. As development and growth cannot be stopped, SGI President Ikeda proposes that human beings have to control their greed and channelize it for the welfare of all.
The book Choose Life left a deep impression on Mr Ghosh, who had read it almost two decades ago. SGI President Ikeda and Toynbee, he said, cautioned us 40 years ago that our planet is endangered. The increasing destruction of nature and growing intolerance among people, he added, is largely due to human greed.
Defining peace, Prof. Ray stated that it is a state where no one experiences social injustice. Appreciating the beauty and profoundness of the dialogue, Prof. Ray believes SGI President Ikeda has been on a spiritual quest to actualise peace. She stated that a spiritual awakening, suggested in Choose Life, along with practicing positive norms in daily life, can resolve several issues of conflict and disharmony within people and between people and nature.
Mr Chakrabarti said he was very surprised and impressed by the frankness and radical approach of the two participants in the dialogue. He said the current crises in our society — ecological imbalance, rampant corruption, increasing intolerance — were discussed by Toynbee and SGI President Ikeda 40 years ago.