October 28, 2012
Soka Bodhi Tree Garden, Haryana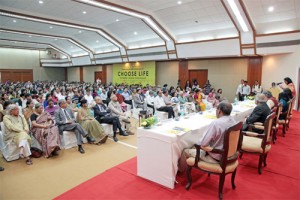 At the Peace Symposium, 'Celebrating the 40th Anniversary of Choose Life: Toynbee-Ikeda Dialogue' held on 28 October 2012 at the Soka Bodhi Tree Garden in Haryana, eminent speakers called for a new code for humanity, a spiritual thinking that will ensure peace in the world.Forty years ago, British historian Arnold J. Toynbee met SGI President Daisaku Ikeda in London to start a series of discussions on topics ranging from dwindling natural resources, rising armed conflict to challenges posed by technological advancement and the future of humanity. The discussions were later published in a book Choose Life: A Dialogue. The book promotes genuine dialogue as a force for peace. It includes Buddhist concepts such as human revolution and the oneness of life and its environment and highlights the significance of SGI's discussion meeting movement.Speakers at the symposium included Director General of the National Archives of India Mushirul Hasan, Padma Bhusan awardee and renowned journalist-writer Mark Tully and Director of India International Centre Kavita Sharma. Mr Tully said that his biggest learning from Choose Life was the need for a humanistic religion. He said he was attracted to the Bhutanese idea of measuring a nation's progress in terms of Gross National Happiness instead of Gross Domestic Product. He stated that GDP left "little room for spiritual growth".
Dr Sharma asked: "Why the title Choose Life? If you don't choose the ethical mode of life, we can't have life." Asserting that human beings are essentially altruistic, she said everything in the universe, and in the human world, is interconnected. "There is a whole world contained even in a piece of bread. Somebody grew the wheat, somebody harvested it, somebody baked the bread and somebody marketed it."
Prof. Hasan shared President Ikeda's efforts in conducting dialogue for peace and going that extra mile to talk to all people. He drew a comparison between three great thinkers — Daisaku Ikeda, Nelson Mandela and M.K. Gandhi — who advocated cross-cultural goodwill.