September 8, 2011
New Delhi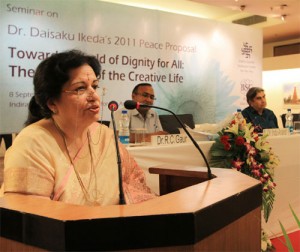 What are the common threads of humanity? Where does violence end and non-violence begin? Did we forget the philosophy of right and wrong?Those were some of the questions discussed by speakers at a peace seminar on September 8, 2011, a day after a bomb blast ripped though the heart of New Delhi and left about a dozen people dead and 75 people injured. Eminent speakers including parliamentarian Dr Shashi Tharoor, principal of Janaki Devi Mahavidyalaya Indu Anand, and Editor-in Chief of the Outlook group Vinod Mehta, echoed at a seminar based on the 2011 peace proposal of Buddhist philosopher Daisaku Ikeda that there is no substitute for dialogue in promoting peace and harmony among people from different faiths.
Dr Anand championed the cause of women. She spoke eloquently about the significance of helping people tap creative value. Even though there is progress on paper, ground realities are very different. So many women suffer silently. There is a need for women to be educated, equipped and represented in post conflict planning. Countries where women enjoy equal rights are prosperous.
Dr Anand expressed her condolences to the families who lost their loved ones in Wednesday's bomb blast. She said terrorism is pure poison. If we cannot stop violence there is no future. Let us cleanse the air, open our hearts and build a society where peace shines.
Mr Vinod Mehta commended SGI President Ikeda for his courage in presenting to the world a holistic peace proposal every year. He emphasized two important points from the 2011 Peace Proposal and discussed their relevance in the present scenario where civil society is protesting worldwide. The first point is the importance of the role of civil society and youth, which can be seen internationally in the upheaval in the Arab Spring and nationally in Anna Hazare's movement. Whether or not you support the movement, it illustrates the power that people have when they unite for a common cause. The second point Mr Mehta highlighted was President Ikeda's argument on the need for Inter-faith dialogue and that the rules of engagement must be framed.
Dr Shashi Tharoor said that he was struck by the importance SGI President Ikeda placed on language and said that words are important, dialogues are important. "At the United Nations, I often found myself talking about the need for talking. I was struck by SGI President Ikeda's emphasis on inter-faith dialogue. Very often the problem is not with the faith, but with the faithful." He said there's a very constructive basis for an inter-faith dialogue, so long as you start with a premise of accommodation.
He concluded with a touching story about a sage who asked his disciples when does the night end. There were several answers but none satisfactory. So he answered: "When two travellers meet from two ends of the world and sleep and sleep under the same sky and see the same stars that's when the night ends."