November 5, 2011
Tata Institute of Social Sciences (TISS) Convention Centre, Mumbai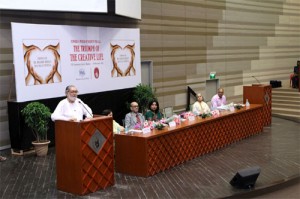 On 5 November 2011, BSG, in collaboration with the Tata Institute of Social Sciences (TISS) organised a seminar on SGI President Daisaku Ikeda's 2011 Peace Proposal, Towards a World of Dignity for All: Triumph of the creative life, in Mumbai. The seminar was held at TISS's Convention Centre and was attended by some of the city's renowned advertising and media personalities and senior government officials. A large part of the audience were young students from TISS who were greatly inspired by the discourse on the peace proposal.In her welcome address, Registrar and professor at TISS Neela Dabeer appreciated Soka Gakkai's efforts in promoting the peace agenda. She hoped that TISS in its platinum year (2011), would collaborate with SGI in promoting human rights education through its upcoming Centre for Human Rights Education.
Bajaj Foundation Representative Venkat Chary called President Ikeda an "indefatigable and relentless lover of peace, a humanist, poet and a prolific writer all rolled into one". He said, "With rare vision and resoluteness, SGI President Ikeda has encouraged dialogues between world leaders in order to ease tensions and build bridges of friendship." President Ikeda won the Jamnalal Bajaj Foundation Award in 2005. The award was given for his efforts in promoting Gandhian values outside India.
Commenting on the peace proposal, Mr Chary said: "What I find remarkable is SGI President Ikeda's tremendous sense of optimism. The choice of the words, 'The Triumph of the Creative Life' in the title of the proposal is indicative of his robust optimism, in a person who is past 80 years of age."
Director Postal Services (Mumbai) Abha Singh talked about the role of women in creating a peaceful society. Drawing on her own experience she explained how she inspired many widows in Bihar and Uttar Pradesh by encouraging them to deliver letters wearing Post department uniforms instead of traditional dresses.
Elaborating on the importance of Buddhist values, Ms Singh said Buddhist teachings promote "mindfulness". "Whatever we do, we do with the thought of adding value." Appreciating President Ikeda's focus on youth taking centre stage, she said that while it is old people who make wars, it is the youth who have to fight for peace. Therefore, the "decision-making has to come to the youth".
Another panelist, Mumbai-based author and journalist Rajni Bakshi, said SGI President Ikeda's views on the necessity of interfaith dialogue is the key to creating lasting peace. While concluding her speech, Ms Bakshi posed a question to other participants: "Can we extend our commitment to peace by embracing the otherness of the other?"
The keynote speaker, advertising guru Gerson Da Cunha, emphasised the importance of individual action. Sharing an important lesson from his years in advertising, Mr Cunha explained the hierarchy of action — you may notice the communication, but not read it, read but not understand, understand but not accept, and accept but not act. "Being aware is not enough," stated Mr Cunha, adding that "Knowledge alone is not enough. There is no linear relation between levels of knowledge and practice."
Mr Cunha called for the creation of a Fifth Estate, "which is you and I" who would do what the First, Second, Third and Fourth estate have failed to do.
In his closing remarks, BSG leader Ashok Arora elaborated on the aim of Buddhist practice: "To establish a truly peaceful society based on the empowerment of the individual, grounded in respect for the Buddha nature inherent in everyone."