September 8, 2010
Indira Gandhi National Centre for the Arts (IGNCA), New Delhi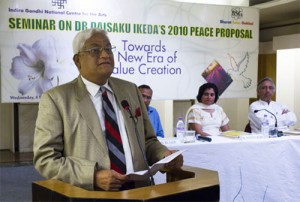 The event was jointly organized by the Indira Gandhi National Centre for the Arts (IGNCA) and Bharat Soka Gakkai (BSG). SGI President Ikeda, a 21st century Buddhist philosopher and peace activist, submits peace proposals to the United Nations each year in his capacity as President, Soka Gakkai International (SGI). These proposals bring to light various global and local concerns and offer practical solutions towards their resolution.If the world wants to free itself of poverty, hunger and war, then a thought revolution is required that stops judging people's worth solely on money and instead reawakens the human spirit, says SGI President Ikeda in his peace proposal for 2010, titled Towards a New Era of Value Creation.
Limitless greed drove the world to the recent credit bubble that gave rise to recession while the deepest negative impulses of the human heart have triggered off the race for nuclear weapons, he says and stresses upon the importance and need for spiritual strength. "Replanting our feet firmly in the here and now is the foundation and pivot of all aspects of human activity. If we lose sight of this and base ourselves on a virtual world, we end up slaves of the very technologies we ourselves created," he says.
It is his unchanging conviction that the source of energy to create value and open the door to a new era is to be found in religion, in a spiritual movement that is compatible with and embraces the insights of science, but can guide and restrain those technologies that, if misused, have the potential to wreak devastation on humankind.
SGI President Ikeda describes the movement of Soka Gakkai (Soka literally means 'value creation') as one that works quietly to revive the human spirit and reawaken ordinary citizens, exhorting people to choose the good that is the fruit of self-mastery and resist the destructive pitfalls of evil. It is an attempt to realize a fundamental transformation in human priorities based on the idea that a change in the destiny of a single individual can change the destiny of all humankind.
Mr Mani Shankar Aiyar, Member of Parliament (Rajya Sabha), was the keynote speaker at the event. Others who addressed the gathering are former Ambassador A.N. Ram; Dr Minoti Chatterjee, Principal, Kamla Nehru College; and Dr RC Gaur of the Kala Nidhi Division of IGNCA.