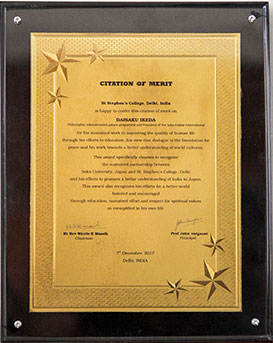 As we enter in the Year of Brilliant Achievement-2018, on 7th of December, 2017 on the occasion of its Founder's Day, the prestigious St Stephens College of Delhi University conferred a Citation of Merit on SGI President Daisaku Ikeda. The citation praised President Ikeda's sustained efforts to "improve the quality of human life" create "a better world," "fostered and encouraged through education", dialogue for peace, "respect for spiritual values" and most of all "as exemplified in his own life". It also recognised President Ikeda's efforts to build "a partnership between St Stephens College and Soka University and promote a better understanding of India in Japan".
St Stephens College is one of the oldest colleges of Delhi University which was established nearly a century ago, on 1st of Feb, 1881 by Rev Samuel Scott Allnutt from the brotherhood of Cambridge. Rev Allnutt established the college with a goal to provide quality higher education, at a time when the only higher education institution, Government College had closed down.
7th Dec marks the centennial death anniversary of St Stephen's Founder Rev Allnutt. This year also marks the 25th anniversary of the establishment of the Student Exchange programme between St Stephens College and Soka University of Japan.
The exchange agreement with St Stephens College was signed by President Ikeda himself, during his visit to India in 1992. Since, then every year a student from St Stephens College goes to study at SUJ and in turn students from Soka University of Japan come to St Stephens to study various subjects.
On this most significant occasion, Rt Reverand Warris K Massih, Chairman and Prof. John Varghese Principal of St Stephens College conferred the award on President Ikeda, which was accepted by Dr. Yoshihisa Baba, President of Soka University of Japan. In his acceptance speech President Baba stated: Our founder Ikeda accepts the award with reverence and humility. He is always expressing how immensely grateful and gratified he feels to see Soka University enjoying many long years of friendship and fruitful exchange with your esteemed College, one of the best and most prestigious in India.
He has asked me to convey, first and foremost, his profound appreciation and warmest wishes to Chairman Right Reverend Warris Masih and the members of the Governing Body, Principal Prof. John Varghese, the faculty, the administrative staff, and dear students of St. Stephen's College.
He further praised the tradition of Stephens College stating, it is a rare educational institution that has been able to combine Indian spirituality with Christian values, especially the Christian spirit of selfless service along with sound scholarship, thereby producing well rounded, upright individuals.
Praising the spirit of the founder, Rev Allnutt, President Baba said, the life of the founder Allnutt shines as a beacon of light, a beacon of selfless service to education, to the people… and devotion to God. Admiring the college's commitment to education and peace, Prof Baba, added, I have learnt that even during the two great World Wars and the Partition of India, St. Stephen's College never creased to work and train students. During the war and violence it championed peace. It survived these tumultuous times becoming more stronger and brighter. Talking about the power of education, President Baba stated, "education is value creation, which we call KACHI SOZO. Education helps us to transform things into benefit for self and others…Our founder SGI President Ikeda truly believes in the power of education to transform society. Rev. Allnutt spent his life in transforming Indian education, a mission that you have relentlessly pursued.
Our partnership—the partnership between St. Stephen's College and Soka University will become the center of fundamental changes in both India and Japan… SGI President Ikeda once said that it takes a century for an institution to make its power reflected in society. We can already see the benefits Indian society is reaping from St. Stephen's College. You Stephanians have transformed every fabric of Indian reality. Soka graduates are also working in different spheres of Japanese society and transforming it.
Praising the impact of the exchange programme, Dr. Baba said, many of our students return from your College with high intellectual and linguistic skills that we all marvel at. They tell me that Stephanians are 'straightforward' and speak without fear or favor.
President Baba, ended his speech with the words: As long as we preserve the founding spirit of the institution it will "flourish eternally" and "gain everlasting life." He once again expressed his joy and gratitude to the College for conferring the award on the Founder of Soka University, SGI President Ikeda. Prof John Varghese, Principal of St Stephens College, deeply praised Ikeda Sensei not only for his teachings but for his personal practice of the teachings.
A delegation from Soka University, the Chairperson of BSG Mr Vishesh Gupta, Honorary Deputy Chairperson Dr. Akash Ouchi and few representative members from BSG were present at the ceremony. The ceremony was conducted in the main hall at St. Stephens College and attended by the members of the governing body, faculty, students, and parents.
The exchange students from Soka University, Japan were visibly joyous, and one of them was also carrying, a large portrait of Ikeda Sensei! The faculty praised the students as being always positive and eager to learn!