14th September, 2021
WHISTLING WOODS INTERNATIONAL, MUMBAI
The Exhibition 'Seeds of Hope & Action (SOHA): Making the SDGs a Reality' was held on 14th September 2021 at Whistling Woods International, Mumbai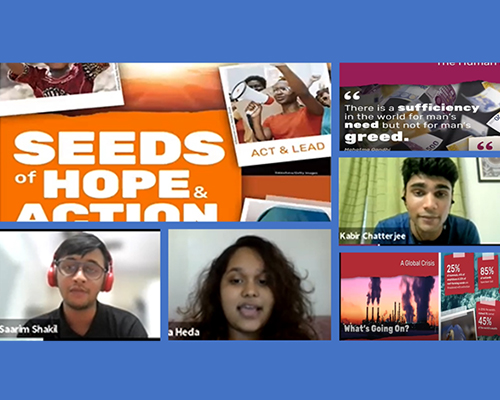 The exhibition is a joint initiative of the SGI and the Earth Charter International and it introduces a positive vision for sustainable living that can contribute to the realization of the Sustainable Development Goals (SDGs).
The virtual exhibition was viewed by around 300 students. A group of 9 students presented the panels to their fellow students with great enthusiasm. The students added lot of additional information to the panels and also made a short video on the importance of respecting our environment.
The presentation of the exhibition was followed by a Panel discussion based on Sustainable Development Goals: 17 Goals to transform our world. The participants in the panel discussion included Mr Bittu Sahgal, (Environmental Activist and Writer), Mr Dee Wood, (Musician and Educator). BSG was represented by Mr. Vikas Verma (Regional Head (North) UNDP India). The panelists deliberated on the significance of SDGs and how each of us can play an active role in actualizing them.
Ms. Meghna Ghai Puri, President, Whistling Woods International, thanked BSG for organizing the exhibition and appreciated BSG's efforts in realising the SDGs.