28th July, 2021
NMIMS, Mumbai
The Exhibition 'Seeds of Hope & Action (SOHA): Making the SDGs a Reality' was held on 28th July 2021 for the students of NMIMS, Mumbai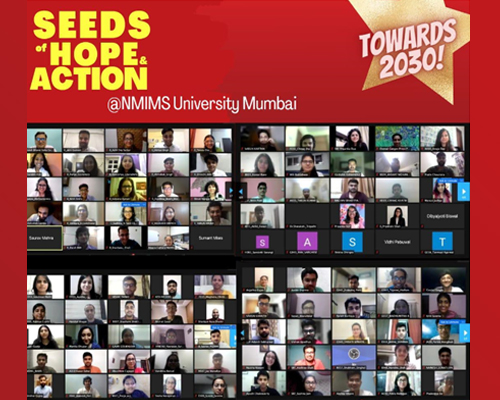 The exhibition is a joint initiative of the SGI and the Earth Charter International and it introduces a positive vision for sustainable living that can contribute to the realization of the Sustainable Development Goals (SDGs).
The virtual exhibition was viewed by around 300 students. A group of BSG Campus group students presented the panels to the audience with great enthusiasm.
The college music club "Treble Makers" performed a fusion of 3 songs in sync with the heart of SOHA exhibition. The performance was met with enthusiastic applause.
The viewing of the panels was followed by a lively interactive session. The students asked many questions, focus on encouraging "Power of one individual" "How we need to take action for SDGs now!" and "How students hold key to our future".
In her closing remarks, Dr. Meena Galliara, Director, Jasani Center for Sustainability Management & Social Entrepreneurship, NMIMS, expressed her deep appreciation to BSG and expressed a desire to continue to collaborate with BSG to hold such exhibitions frequently.
Testimonials by students below :
"I was mesmerized by the exhibition organized by BSG. It was my first ever virtual experience. I literally had GOOSEBUMPS while watching how BSG contributes towards the society and hearing the stories of people across the globe. Also I learnt today that 'Knowledge alone cannot create value'. Wisdom is also required to have a sense of choosing between right and wrong. We can together work for the welfare of the society by combining both knowledge and wisdom. I would like to attend more such events in future. It was a great experience!"
__ Khushboo Gajwani
"Their spirit of 'The Power of One' really resonated with me throughout the session. They beautifully how important it is for us humans to save and protect our nature, live with Peace and kindness, and do whatever we can to create equal opportunities for all. The 17 SDGs are formed with the spirit to leave no one behind, and I for one was really inspired by that. This session has motivated me to put in my all and just take the first step forward to create a change, the rest of the path will clear itself."
__ Nandita Shah