13th and 15th July, 2021
New Era Public School, New Delhi
Virtual Exhibition Titled 'SEEDS OF HOPE & ACTION (SOHA) Held In New Era Public School, New Delhi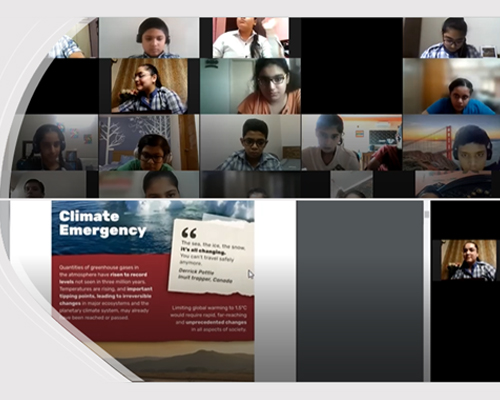 The Exhibition 'Seeds of Hope & Action (SOHA): Making the SDGs a Reality' was held on 13th and 15th July 2021 for the students of class 8/9/10 of New Era Public School, New Delhi
The exhibition stresses our interconnectedness with the rest of the community of life and the need to broaden our sphere of compassion. It encourages viewers to overcome feelings of powerlessness and highlights the fact that a single individual can initiate positive change.
The virtual exhibition was viewed by around 700 students and teachers on both days. A group of 'Peer Mentors' took the lead and explained the exhibition panels in detail. At the end of the presentation, students shared their views and asked many questions which reflected their earnestness in finding solutions for the global issues.
On 15th July 2021, the second day of the exhibition, screening of the film "A Quiet Revolution" was held which was and ended with a buoyant 'interaction session'.
The students and the school authorities thanked BSG for this initiative and expressed their desire for similar session in the future.