14th and 16th July, 2021
GD Goenka World School, Gurgaon
Virtual Exhibition Titled 'SEEDS OF HOPE & ACTION (SOHA) Held In GD Goenka World School, Gurgaon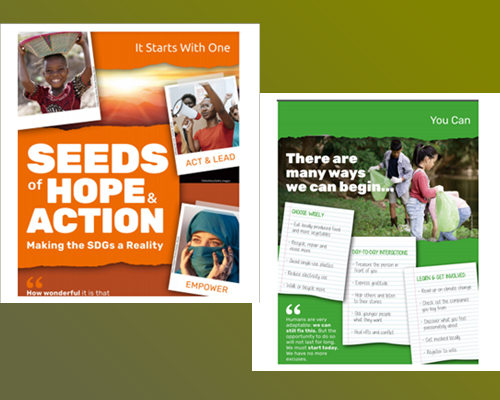 The Exhibition 'Seeds of Hope & Action (SOHA): Making the SDGs a Reality' was held on 14th and 16th July 2021 for the middle school students of GD Goenka World School, Gurgaon
The exhibition is a joint initiative of the SGI and the Earth Charter International and it introduces a positive vision for sustainable living that can contribute to the realization of the Sustainable Development Goals (SDGs).
The virtual exhibition was viewed by around 200 students on both days. A group of 11 students presented the panels to their fellow students with great enthusiasm. The students presented participated in the discussion with zeal and showed their passion to work for sustainability. They also shared their thoughts and ideas on initiatives that can be taken at grassroots level towards sustainability.
The viewing of the panels was followed by screening of the film "A Quiet Revolution" and ended with a lively 'interaction session'.
The principal of the school Dr. Neeta Bali thanked BSG for organizing this exhibition in the school. Dr Bali said that young minds need to be nurtured with inspiring thoughts and appreciated BSG efforts in doing so.