April 15 – 26, 2018
Agra & Gwalior
A new exhibition titled "Transforming Lives: The Power of Human Rights Education" – being held for the first time in India – was inaugurated at Sur Sadan Auditorium, Agra on 15th April 2018.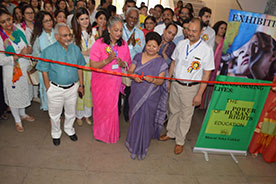 Exploring the concepts of human rights and human rights education, the 25-panel exhibition showcased how human rights education has led to transformation and empowerment of individuals and communities around the world. The exhibition also explored the vast potential that ordinary citizens and civil society organizations possess towards nurturing a culture of human rights.
The exhibition was inaugurated in Agra by Dr. Poornima Jain, Head of Human Rights Department, Dayalbagh Educational Institute. Speaking on the occasion Dr. Jain said that an important aspect of Human Rights is our behavior towards others. "While it is important to know about Human Rights, what is also needed is an awareness of our responsibility towards others", she stressed.
The inauguration ceremony got underway with a powerful cultural performance – deeply appreciated by all the guests and widely covered in the media. Subsequently, the exhibition was on display in 6 prominent schools and was viewed by other schools as well. The exhibition held from 16th to 21st April 2018 attracted a total of 5718 visitors.
On 22nd April, the exhibition moved to the fort city of Gwalior. The Divisional Commissioner, Mr B.M. Sharma inaugurated the exhibition at Galavghar Auditorium in Jiwaji University. Mr. Sharma greatly appreciated the efforts of BSG in raising awareness of human rights education. As in Agra, a joyful cultural program was the highlight of the inauguration. The panels were on display in 4 schools and was viewed by 6,101 students coming from all over the city. The exhibition concluded on 26th April 2018.
A number of school children eagerly learned about the panels from BSG members and in turn enthusiastically explained about the exhibition to other visitors.
The exhibition was covered extensively by the media in both cities. A few media clippings are attached.
The members of Agra and Gwalior worked against all odds and in perfect coordination to pull off a very successful exhibition which made a deep impact in society.