21st September, 2022
Jija Bai Industrial Training Institute for Women, Siri Fort, New Delhi
The SOHA exhibition is a joint initiative of the SGI and the Earth Charter International. It introduces a positive vision for sustainable living that can contribute to the realization of the Sustainable Development Goals (SDGs).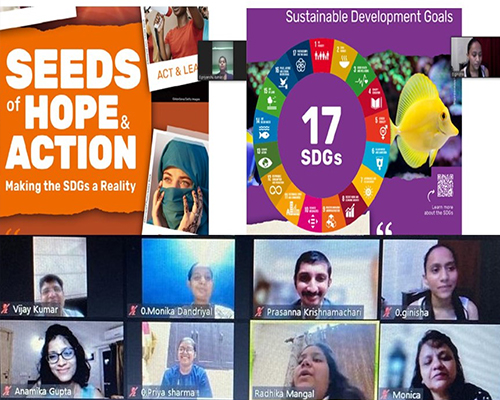 The online exhibition was organized by Jija Bai Industrial Training Institute for Women, Siri Fort, New Delhi, in association with BSG. The exhibition was attended by students, faculty and their guests.
The exhibition started with a welcome by the Principal of the Institute Mr. Vijay Kumar, who shared about how all the SDGs are interconnected. This was followed by an introduction about the SOHA and the vision and activities of BSG.
On behalf of BSG, Ms. Anamika Gupta, a member of the BSG for SDG taskforce, spoke about the International Day of Peace, and the challenges faced by women. She emphasised on the importance of dialogue, and the need to take that one step, that one action, which will pave the way towards a better world. She also appreciated the students for their efforts towards presenting the panels.
A group of students from the institute presented the panels and explained several case studies which demonstrated the 'power of one'. The exhibition concluded with an interactive session. The students shared their own creative ways and ideas in which they are contributing towards sustainability. Many guests also shared on how they are using old items in a resourceful and sustainable manner.
Mr. Vijay Kumar, praised the exhibition as a unique initiative as the panels showed actions taken by individuals and communities and gives a ray of hope for change, beginning at grassroots level. Many guests also appreciated the exhibition, the efforts of the students to present the panels, and resolved to take concrete action towards achieving the SDGs.
Institute Faculty, Ms. Alka Wadhwa, thanked BSG for organizing the exhibition and urged the students to continue taking action and transform their communities.