31stMarch, 2023
Bengaluru
"There are multiple ways in which we can do better in this world, and we can do the smallest of things to better our future."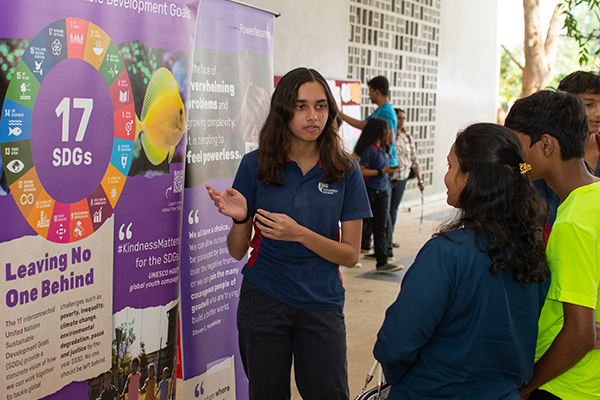 On 31 March 2023, the Vidyashilp Academy in Bengaluru took a small, but vital step towards sustainability by conducting the Seeds of Hope and Action (SOHA) Exhibition in collaboration with Bharat Soka Gakkai (BSG).
The exhibition aims to talk about the importance of "Power of One" to achieve sustainability. The exhibition underscores the fact that it all boils down to one single individual taking consistent action that will create a better, and more sustainable world. While government, corporations and policy-making bodies have their own role to play, sustainability can only be achieved if each individual play their own role, by adopting 'Sustainable Human Behaviour' (SHB) in their lives. SHB is essentially an inner transformation in the depths of one's life – bringing mindfulness and consideration towards others who are at the forefront – be it other humans, animals, birds, environment, laws, institutions, etc.
The exhibition coincided with the school's annual parent-teachers meeting. More than 100 parents, teachers and students viewed the exhibition.
Students who explained the exhibition panels shared about how they were impacted by the theme of the exhibition, and how SDGs and sustainability are the need of the hour, especially towards combatting the present global crisis.
One of the students shared "The exhibition had a very positive impact on me. Basically, I got to learn about different SDGs, how different people are implementing them. I loved the part where it talks about people taking action. Because people taking action is something that will help give a real life example to other people, and enable them to learn about what they can and cannot do, and how they can help the world at large through their actions."
Another student shared "Small initiatives have a big impact. There is no difference between a big initiative and a small initiative."
Yet another student shared "Everything that we do to help our environment will in some way or the other benefit us. And if we all understand that and we all work towards a common goal, it is extremely easy to save our planet."
One of the parents shared that his major takeaway was to use no plastic bottles. He also shared that even if plastic bottles are used, he will crush them before disposal, and these are little actions that one can take for the environment.
Another parent shared about actions being taken at her home, such as not using single-use plastics, carrying their own cloth bags, using bamboo toothbrushes, replacing plastic items with more sustainable products etc. She also shared that based on the learnings from the exhibition, she will help her son lead a more sustainable life from a young age itself.
Students also shared some of the actions that they will take up going forward such as- not using fast fashion, turning off lights, not using unnecessary paper, making responsible and conscious choices personally, talking to more people about sustainability and changing their own selfishness and greed.