25th – 27th July, 2023
Vadodara
The 64th, 65th, 66th & 67th Seeds of Hope and Action (SOHA) Exhibitions organized by Bharat Soka Gakkai (BSG) were held in Vadodara from July 25th to 27th, 2023. The exhibitions were hosted by Delhi Public School (Harni), Vadodara, and attended by over 3500 students, teachers, staff members, and parents from schools such as Delhi Public School (Vadodara), Avalon World School (Dhaboi), and Global Discovery School (Vadodara).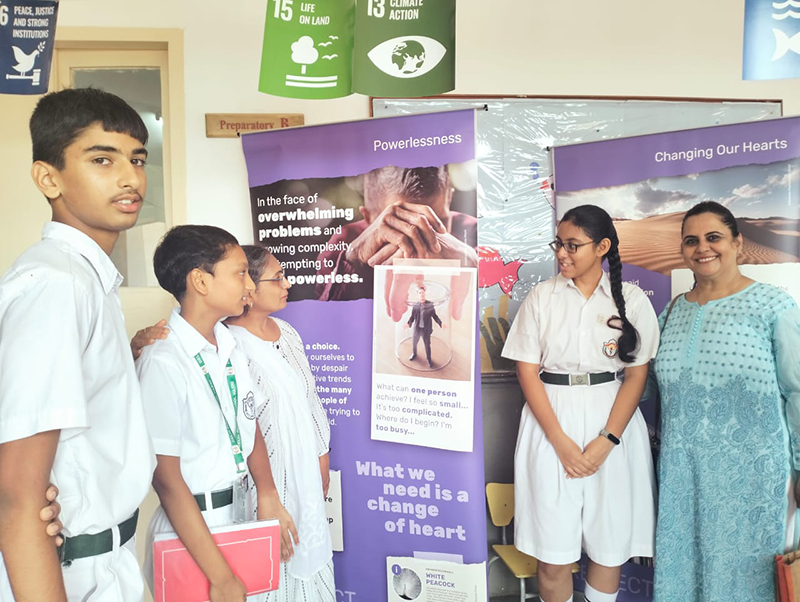 Ms. Deepali Sekhon, the Principal of Delhi Public School (Harni), Vadodara, inaugurated the exhibitions, and a film titled "BSG for SDG | Towards 2030: Achieving the SDGs through Sustainable Human Behaviour" was screened each day. The film highlighted the importance of sustainability and the impact of BSG in achieving Sustainable Development Goals (SDGs) through Sustainable Human Behaviour.
The SOHA exhibition was divided into five segments: 'Inspire', 'Learn', 'Reflect', 'Empower', and 'Act & Lead'. The exhibition aimed to promote Sustainable Human Behaviour (SHB) as a way of life and encourage individuals to actively contribute to sustainability for a better world. Students passionately explained the exhibition panels and the principals of the participating schools were appreciative of the BSG initiative. They shared that the exhibitions had a deep impact on the viewers and their students had gained immensely from the experience.
If you want to catch a glimpse of the exhibitions, you can view them here.