29th March, 2023
VNR Vignana Jyothi Institute of Arts & Science, Hyderabad
On the 29th of March 2023, the Bharat Soka Gakkai (BSG) held their 46th Seeds of Hope and Action (SOHA) Exhibition at the VNR Vignana Jyothi Institute of Arts & Science. The event attracted over 250 students and faculty members who were eager to learn about the significance of sustainable human behaviour (SHB) and to adopt it as a way of life.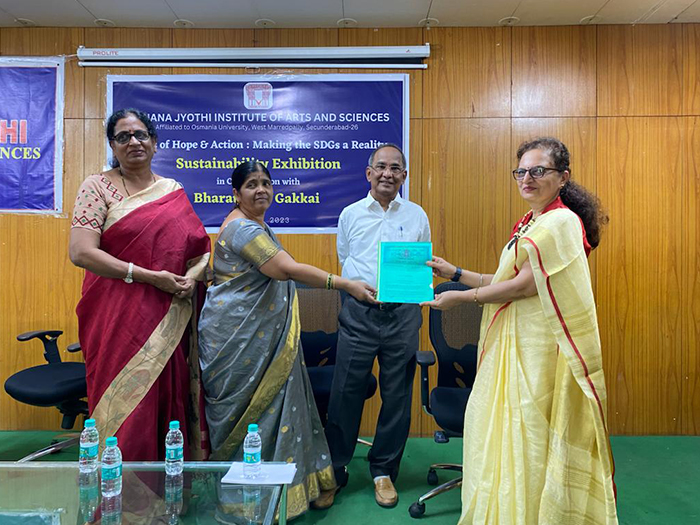 The exhibition kicked off with Director Dr. Vijay Prasad delivering a powerful speech about the Sustainable Development Goals (SDGs) and the dire need for sustainability in today's world. The audience was spellbound as he passionately spoke about the importance of SHB and how it could pave the way for a sustainable future.
Following his address, a screening of the "BSG for SDG" film took place. The film showcased the importance of SDGs and how sustainability is the need of the hour. The audience was thoroughly impressed and inspired to take action towards sustainability.
The exhibition itself was a visual treat, with 25 panels describing the "Power of One" and showcasing various actions taken by individuals towards achieving the SDGs. The students at the institute were instrumental in explaining the panels to the visitors and their enthusiasm was contagious.
The Director, Principal and all faculty members were highly appreciative of the BSG initiative. The exhibition left a lasting impact on the visitors, who felt empowered to contribute towards the SDGs.
The 'BSG for SDG' Mobile App was also a highlight of the exhibition. Viewers were impressed with its functionality, and several downloaded the App, pledging to use it to take more sustainable actions in their daily lives.
Furthermore, one student shared about how he is working on making cheaper fuel out of plastics through the process of pyrolysis, and many others expressing their determination to continue practicing sustainability and take the cause further. All in all, the SOHA Exhibition successfully educated and inspired attendees to adopt sustainable practices and take action towards a more sustainable future. The event was a testament to the fact that a small change can make a significant impact in creating a better and more sustainable future.