14thDecember, 2022
Vivekananda Institute of Professional Sciences, New Delhi
BSG conducted the Seeds of Hope and Action Exhibition: Making the SDGs a Reality (SOHA) on Wednesday, 14th December 2022 in collaboration with the Vivekananda Institute of Professional Sciences (VIPS) – TC, School of Engineering and Technology. The exhibition encourages viewers to overcome feelings of powerlessness and highlights the fact that one single individual can initiate a positive change.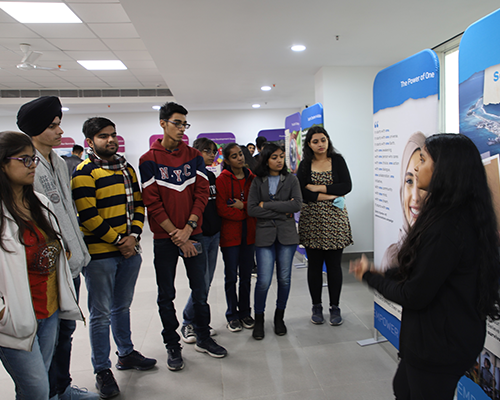 The exhibition commenced with a brief session in which the SOHA exhibition was introduced. This was followed by an interactive session with the students where there was discussion about the concept of 'Sustainable Human Behaviour', the importance of taking action at an individual level, and the power of one. Students came up with ideas to adopt sustainable practices in their own lives and within the campus, such as taking smaller portions of food to avoid wastage. Each student resolved to be that one individual who will overcome feelings of helplessness, lead through their own example, and initiate great change in their communities, starting from the college.
The offline exhibition was later opened for over 700 students & teachers of the college. The exhibition panels were explained by selected students in their own creative ways.
Vice Chairman of the college, Mr. Vineet Vats appreciated BSG for the initiative, especially the concept of 'Sustainable Human Behaviour', the overall format of the exhibition and the 'BSG for SDG' Mobile App. He also appreciated the efforts of the students who explained the exhibition panels. Director-General, Mr. Ashwini Kumar Sharma, lauded the exhibition's message of one single individual taking the lead to initiate great change.
Director, B. Tech Programmes, Ms. Goldie Gabrani, thanked BSG for organizing the exhibition. She expressed hope that the exhibition will be a first step for the college to take action towards building a more sustainable community.
The exhibition was well received by the viewers, who shared that the exhibition was very informative, and expressed their determination to lead more sustainable lives.