25th July, 2023
Acharya Tulsi Sarvodaya Bal Vidyalaya, Chatarpur
The 63rd SOHA exhibition was held by Bharat Soka Gakkai (BSG) at Acharya Tulsi Sarvodaya Bal Vidyalaya in Chatarpur, New Delhi on July 25, 2023. Over 500 students and teachers attended the exhibition.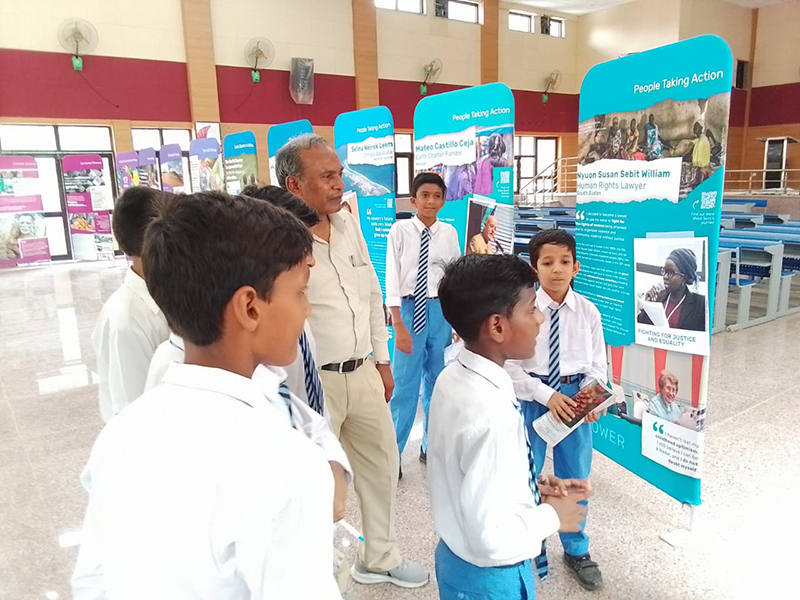 At the SOHA exhibition, visitors can learn about the crucial role of individual actions in achieving sustainability. By adopting Sustainable Human Behaviour (SHB) in their daily lives, people can create a positive impact on their immediate surroundings and the world as a whole. SHB requires a conscious shift in behavior, promoting mindfulness and consideration towards others, including humans, animals, birds, the environment, laws, institutions, and more. Without adopting sustainable human behavior, it will be challenging to preserve and protect our world.
Students from Grades VI & VII passionately explained the exhibition panels and their understanding of sustainability. Their pure-hearted presentations made a deep impact on the viewers. The Principal of the school, Mr. Mandeep Kumar, was deeply impressed with the idea of the exhibition and commended BSG for the initiative. He also praised the student's commitment to sustainability.
A glimpse of the exhibition can be seen here.