2nd November, 2023
Vadodara
In the heart of Vadodara, a beacon of hope ignited at the Gujarat Public School, Channi Branch, where the SOHA exhibition unfolded, inspiring young minds to embrace their role as guardians of our planet and protectors of humanity. Over 300 students and teachers immersed themselves in this transformative event, energized by the message that individual actions, initiative, and determination can ripple out to create a world of sustainable harmony.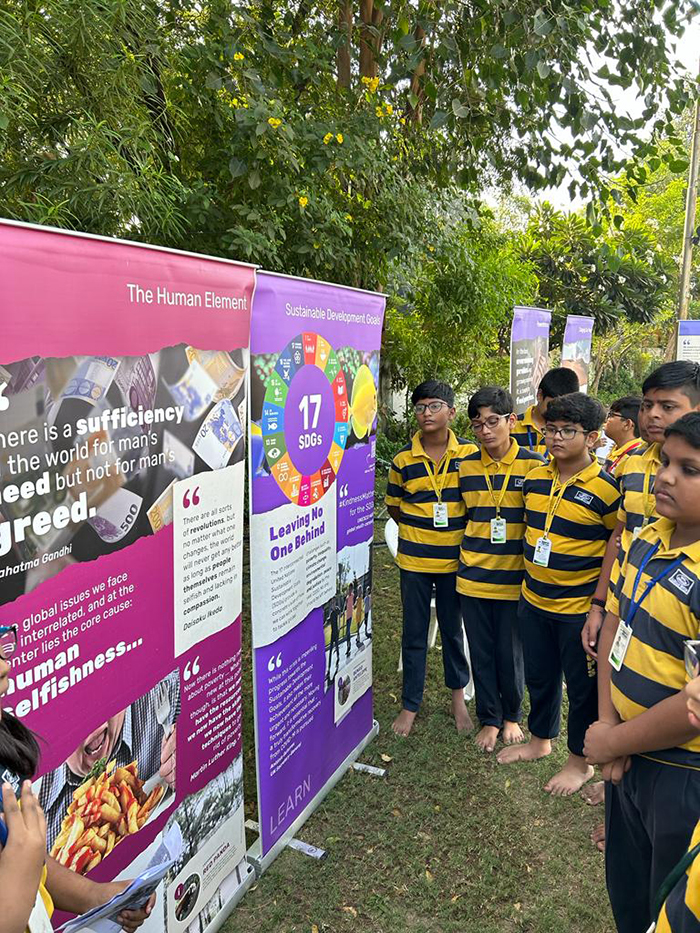 The SOHA exhibition, a tapestry of 26 panels, showcased the profound interconnectedness that binds us all, reminding us that our sphere of compassion must extend far beyond ourselves. It emphasized the transformative power of "Sustainable Human Behaviour," highlighting its ability to pave the way towards achieving the Sustainable Development Goals (SDGs).
Interspersed within the exhibition were the inspiring stories of six remarkable individuals from diverse corners of the globe – South Sudan, Lebanon, and Brazil. These unsung heroes, through their unwavering commitment, had ignited positive change in their respective communities, demonstrating that even the smallest acts of compassion can spark a chain reaction of transformative action.
Students from the school, brimming with enthusiasm, guided the attendees through the exhibition panels, their actions echoing the exhibition's message of empowerment. They embraced their role as catalysts for meaningful change, ready to carry the torch of sustainability and compassion into their own communities.
The SOHA exhibition, a symphony of empowerment and hope, reverberated through the halls of Gujarat Public School, leaving an indelible mark on the minds of young changemakers. It ignited a spark of determination within them, fuelling their desire to become SDG Ambassadors, leading the charge towards a brighter, more sustainable future for all.