24th June 2018
Sona College of Technology, Salem
The exhibition, 'Seeds of Hope: Visions of Sustainability, Steps toward Change', was inaugurated on 24th June 20148 at Sona College of Technology, Salem. The inauguration was presided over by Mr V R Rajendran, Vice Chancellor, Vinayaka Mission's Research Foundation. The other guests present were Dr, S.R.R. Senthilkumar, Principal, Sona College of Technology, Dr. R. Malathy, Dean, Civil Department, Sona College of Technology. The inauguration was attended by more than 300 people.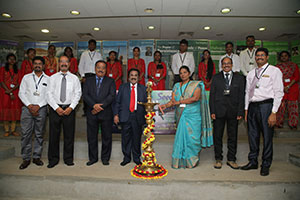 In her address, Dr.R Malathy was lavish in her admiration for President Ikeda and the role of BSG in building Peace through Culture and Education. She expressed her confidence that the chief message of the exhibition 'start with one' would reach the people.
Dr. S.R.R. Senthilkumar talked about the significance and the role of an individual to protect and nurturing the environment. He applauded the efforts of BSG in bringing this valuable exhibition to Salem.
In his presidential speech, the Chief Guest Mr V R Rajendran touched about the importance of 'living together with mutual respect and upholding of humanity". "Love for the nature and the mother earth" should stem from one's own life", he said.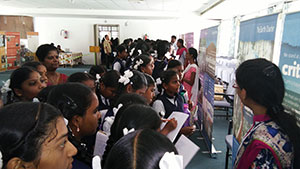 The exhibition was opened to the public from 25th to 30th June 2018 and was viewed by more than 7500 students from around 50 schools.
The film 'A Quiet Revolution' was also screened during the exhibition which was appreciated by all.