February 2-4, 2018
Manipal
The first exhibition of this year, 'Seeds of Hope: Visions of Sustainability, Steps toward Change', was inaugurated at Melaka Manipal Medical College (MMMC), Manipal Academy of Higher Education, Manipal on the 2nd February 2018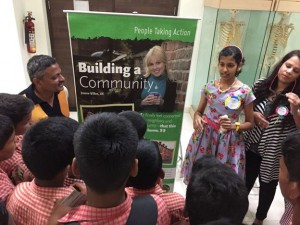 The exhibition was inaugurated on 2nd February 2018 by Chief guest Mr. C. G. Muthanna, Chief Operating Officer, Kasturba Hospital, Manipal. In his address Mr. Muthanna noted the various issues being faced by society and environment today which makes holding such an exhibition very significant. The Guests of honor for the occasion were Professor Varadesh Hiregange, Director of Gandhian and Peace Studies and Professor Hilda Rayappan, Founder and Director Prajna Counselling Centre, Mangaluru. Speaking on the occasion, Professor Varadesh stressed on the importance of one person taking action. Professor Hilda encouraged the youth to continue to take action for betterment of society. Dr. Ullas Kamath, Dean MMMC gave the welcome address.
BSG and MMMC trained more than 150 school students across Manipal, Udupi, Agumbe, Karkala, Moodbidri, and Panemangalore to present the panels. Students from various schools viewed the exhibition. These schools include, S.V.S High school, A.V.M English Medium High School, Sri Bhuvanendra Residential School, Sri Sharada High School, Sri L.V.N Pai Vidyalaya, Green Park Engligh Medium High School, Mahaveera PU college, and Madhav Kripa High School.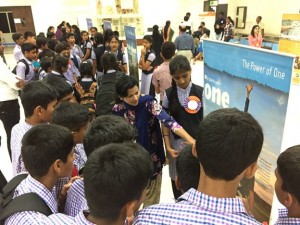 The exhibition was viewed by more than 3200 students. The students, who were trained for presentation, presented the panels with a lot of enthusiasm. Dr. Annamma Kurien, Associate Dean, MMMC mentioned that this exhibition would have certainly made a lifelong impression on those involved. Students were also involved in interactive games to reinforce the learning from the exhibition.
The exhibition was covered by the national and local media.