11th February, 2020
MOP Vaishnav College for Women, Chennai
The first exhibition of the year of 2020, 'Seeds of Hope: Visions of Sustainability, Steps toward Change', was inaugurated at MOP Vaishnav College for Women, Chennai on the 11th February 2020. The exhibition was subsequently on display at 5 venues in Chennai and concluded on 20th February with a total footfall of 27,257. The exhibition across all the venues was viewed by students from 62 schools and 5 colleges and the Chennai members trained around 200 student volunteers in each school to explain the panels.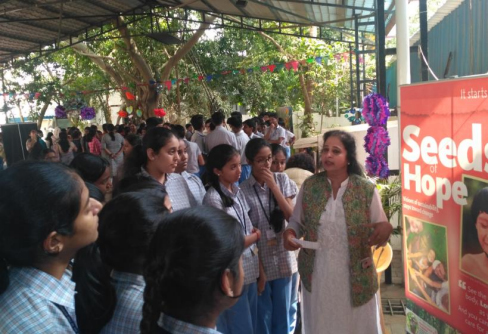 The exhibition was inaugurated by Chairman of Tamil Nadu Pollution Control Board Mr. A.V. Venkatachalam who was also the chief guest for the function. In his address Mr. Venkatachalam spoke about the importance of sustainability and appreciated the efforts of BSG towards this endeavor. Also in attendance were Dr. Sethu Kumanan, Chairman of Soka Ikeda College of Arts & Science for Women, Mrs. Keertika Arun, Joint correspondent of Maharishi Vidya Mandir and Dr. Uthira D, Vice Principal of MOP Vaishnav college.
The exhibition was on display in MOP Vaishnav college on 11th and 12th Feb, in Guru Nanak College from 13th to 15th Feb, Shree Natesan Vidyasala on 16th Feb, Sethu Bhaskara Matriculation Higher Secondary School from 17th to 18th Feb and finally at Maharishi Vidya Mandir from 19th to 20th Feb. One of the participating schools sent their children for a street play on sustainability at all the venues and the school management offered their buses to enable more than 2,000 government school children to visit the exhibition.
The panels and the central message of the exhibition about the power of one single individual had a deep impact on the viewers and many left the exhibition with a deep resolve to effect a change in their environment. The blank panel in the exhibition (to enable viewers to attach their own statement of what they will do toward sustainability) was filled with heartfelt messages from the students who resolved to protect their environment.
The painstaking and detailed preparation done by all the volunteers and leaders in Chennai ensured that the exhibition was a great success and resulted in highest ever footfall for the exhibition and they determined to spread the message of peace and hope in their respective communities!