22nd and 23rd February, 2021
Vivekananda Kendriya Vidyalaya, Hurda (Rajasthan)
The new exhibition titled 'Seeds of Hope & Action (SOHA): Making the SDGs a Reality' is a joint initiative of the SGI and the Earth Charter International and it introduces a positive vision for sustainable living that can contribute to the realization of the Sustainable Development Goals (SDGs).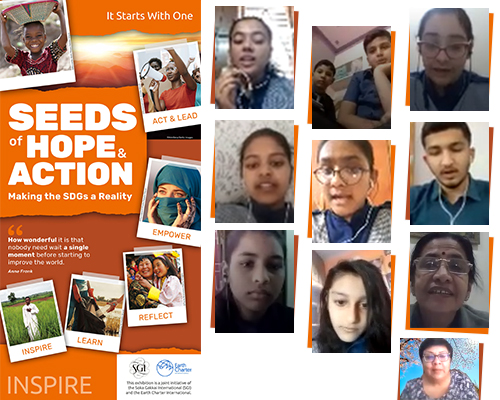 [ Students enthusiastically explaining the panels to the viewers ]
The 24-panel exhibition includes panels portraying six individuals from South Sudan to Lebanon and Brazil who have successfully taken action for change. SOHA is an updated version of the "Seeds of Hope: Visions of sustainability, steps toward change" exhibition created in 2010 to mark the 10th anniversary of the Earth Charter.
The exhibition has newly added panels on climate change, the SDGs and the Mapting app. The panels convey the central message that one single individual with a deep resolve has the power to effect a change in their environment.
The exhibition was held for the first time in India on 22nd and 23rd February 2021 at Vivekananda Kendriya Vidyalaya, Hurda (Rajasthan).
The exhibition which was held online was viewed with great enthusiasm by around 400 students on both days.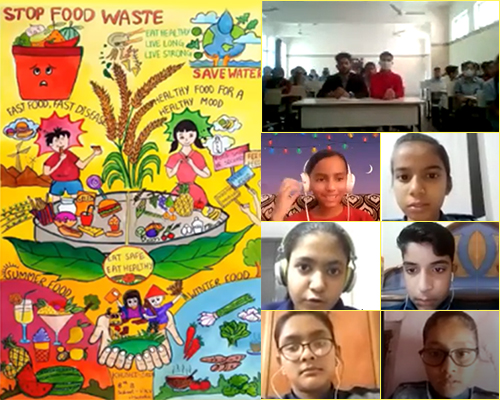 [ painting by student depicting water harvesting and energy conservation ]
A training session was organized by BSG for the school students about the various aspects of the exhibition. The students in turn enthusiastically leaned and further explained every panel to the viewers. The students also showcased initiatives that they have taken towards sustainability.
The viewing of the panels was followed by screening of the film "A Quiet Revolution".
The exhibition also included an 'interaction session' in which both students and teachers participated wholeheartedly.
The Principal of the school Ms. Asha Goyal and the Academic Advisor of the school Ms. Shashi Agarwal thanked BSG for organizing the exhibition during these trying times.