11th February, 2022
Nahar International School, Mumbai
The Exhibition 'Seeds of Hope & Action (SOHA): Making the SDGs a Reality' was held on 11th February 2022 at Nahar International School, Mumbai. Around 100 students and teachers viewed the exhibition.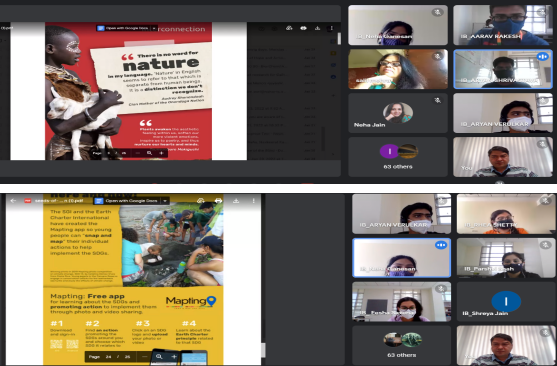 The purpose of the exhibition was to raise awareness and educate the youth about the 17 Sustainable Development Goals proposed by the United Nations. The exhibition is divided into 5 sections namely – Inspire, Learn, Reflect, Empower, Act and Lead – a formula developed by SGI President Daisaku Ikeda
This SOHA exhibition introduced a pragmatic vision for sustainable living so that we can contribute to the realization of the SDGs. Effective communication of these concepts and how they are the key to furthering humanity's efforts to fulfill the SDGs was aided by several real-life stories of individuals who strived to bring about a positive change in response to the social situations they found themselves in.
The students presented their own interpretations of the exhibition panels and its reception by those in attendance demonstrated the hours of preparation they put in as well as the ideas they brainstormed.
Principal, Ms. Vandana Arora, thanks BSG for organizing the exhibition and encouraged the students to contribute to realizing the SDGs.