8th and 11th October, 2021
Montfort School, New Delhi
The Exhibition 'Seeds of Hope & Action (SOHA): Making the SDGs a Reality' was held on 8th and 11th October 2021 at Montfort School, New Delhi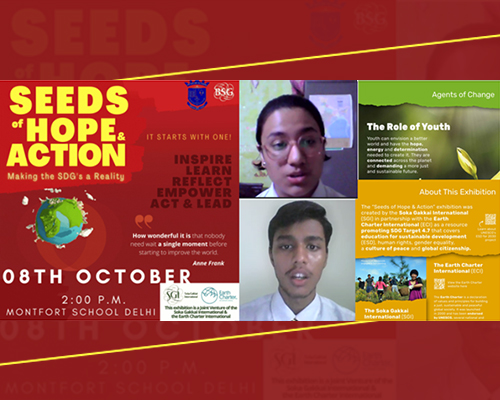 The exhibition is a joint initiative of the SGI and the Earth Charter International and it introduces a positive vision for sustainable living that can contribute to the realization of the Sustainable Development Goals (SDGs).
The online exhibition was viewed by around 200 students on both days. A training session was organized by BSG for the school students about the various aspects of the exhibition. The students in turn enthusiastically leaned and further explained every panel to the viewers who included their fellow students and teachers.
The viewing of the panels was followed by screening of the film "A Quiet Revolution". The screening was followed by a 'quiz' in which the students were asked questions based on the film. The quiz had an enthusiastic response from the students.
The exhibition concluded with an 'interaction session' in which students asked questions on how they can contribute to the SDGs.
Bro. Thampy Alex, Principal, Montfort School and many teachers also joined the students in viewing the exhibition.
Ms. Renu Singla, School Counsellor, Montfort School, thanked BSG for organizing the exhibition and said that this strengthened the long-standing relationship between BSG and Montfort school.